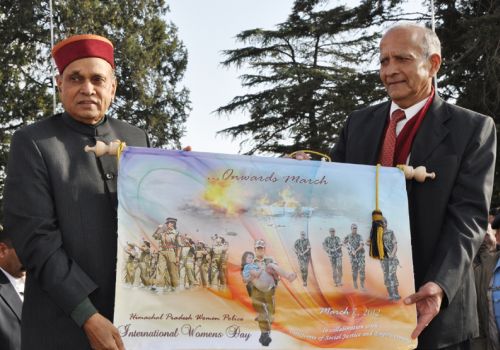 The First Women Police Battalion in North India, established in Himachal Pradesh, observed the International Women's Day at historic Ridge Maidan, here today, with much fanfare and enthusiasm, presenting spectacular colourful show of the skills they had learnt during the course of their training and competence earned.
Addressing the large assembly of people from all walks of life, Chief Minister, congratulated women folk on the International Women's Day and said that Himachal Pradesh was privileged to have established First Women Battalion in North India, creating opportunity to young educated women to join security forces. He said that the State had got sanctioned three India Reserve Battalions for the State from the Centre in year 2000, which included one Women Battalion, when other states were reluctant to establish the same. He said that the young women recruited into the battalion had successfully completed their training and equipped with best of the skills to meet any emergency coming their way while performing their duties. He said that the girls had brought proud to the State in general and women in particular.
Prof. Dhumal said that it was during the earlier term of 1998-2003 of BJP Government that three women constables were deployed in each of the police stations in the state to facilitate women complainants lodge their complaints more conveniently. He said that it had helped in creating an atmosphere free of fear in police stations whereafter a number of otherwise unreported cases started registering in the police stations and atrocities against women checked upto some extent. He said that the State Government had envisioned and implemented a number of schemes aimed at women empowerment with a view to inculcate the sense of security and self reliance amongst women folk. He said that women happened to be the vital organ of social system and were being given a respectable place in the society since the time immemorial. He said that with the women empowerment a strong social system was building up and gender bias removed from the prevailing social system. He said that women empowerment would ensure uniform and balanced development in all spheres. He also released the poster brought out by the State Police to commemorate the International Women's Day.
Director General of Police Dr. D.S.Manhas said that the State police had 10 percent women force and included 11 gazetted police officers, 50 non-gazetted officers and 1,400 women constable. He said that with equitable deployment of women police force their participation in maintaining law and order had been ensured. He said that the State Police was committed to meet its social obligations and associate women in different activities.
Women officers of all ranks and files took a pledge to donate their limbs for the social causes on their death. Bindu Rani, Commandant, Women Police Battalion, proposed vote of thanks. Sarveen Chaudhary, Social Justice and Empowerment Minister, Suresh Bhardwaj, MLA, Veena Thakur, Chairperson, State Social Welfare Board, Santosh Saini, Chairperson, HIMFED, Ganesh Datt, Vice Chairman, HIMUDA, I.D.Bhandari, Director General of Police (Prisons), Onkar Sharma, Deputy Commissioner, Dr. M.P.Sood, Commissioner, Municipal Corporation, senior police officers and prominent people of the town were witnesses to the celebration.