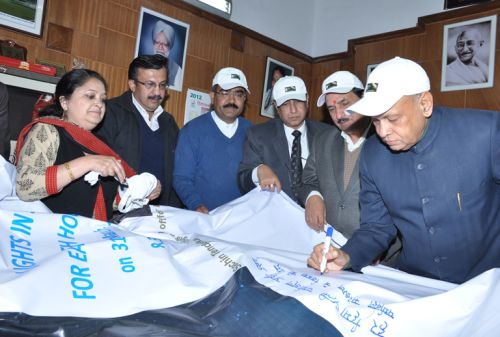 Chief Minister Prem Kumar Dhumal launched signature campaign from his official residence, Oakover, with an appeal to the people to observe Earth Hour on Earth Day, on the call given by WWF, by switching off lights on March 31, 2012 between 8.30 PM to 9.30 PM, to launch global movement of positive change in environmental attitude, when the entire world would be celebrating Earth Day. The State level function being organized by WWF in collaboration with State Council for Science Technology and Environment.
Chief Minister said that such campaigns should not be limited to ritual celebrations but constant endeavours were required to be launched to sensitize masses about the importance of environment protection for the sustenance of all living beings. He said that a number of threats were emerging on the environmental front which could be slowed down only with the disciplining of daily habits of individuals. He said that saving planet earth had emerged top priority of the day keeping in view the increase in energy impact on the planet.
Khimi Ram Sharma, Forest Minister, S.Roy, Additional Chief Secretary, Forests, Dr. Arun Sharma, Principal Private Secretary to the Chief Minister, R.K.Gupta, Principal Chief Conservator of Forests, Dr. Nagin Nanda, Secretary, Environment and Pollution Control, other senior officers were present on the occasion.