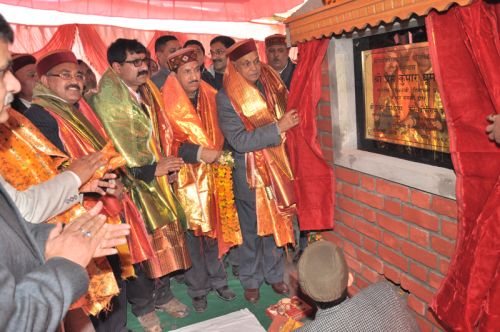 Chief Minister Prem Kumar Dhumal lays foundation stone of Subzi Mandi that will be constructed at a cost of Rs. 1.82 crore. Chief Minister said that the proposed marketing yard at Manali will facilitate the farmers of Kullu and Lahaul-Spiti districts. The State Government was taking every possible step to safeguard the interests of farmers and fruit growers of the State. He said that the construction work of marketing yards at Kharapathar, Nirmand, Karsog, Jahu and Ghumarwin was in progress on which Rs. 10 crore were being spent. He said that one more modern marketing yard was being constructed at Parala in Shimla district by spending Rs. 100 crore and one more such marketing yard would be constructed in lower area of the State.
Chief Minister said that the State Government had launched Rs., 353 crore Pandit Deen Dayal Kisan Baagwan Samridhi Yojna for the welfare of farmers and fruit growers of the State under the beneficiaries were being provided subsidy of 80 percent. The Scheme had been launched with a view to boost the economy of the farming community by encourage them to adopt modern techniques of farming.
Govind Thakur, local MLA welcomed the Chief Minister and said that the marketing yard would go a long way in facilitating the farmers and fruits growers of Kullu and Lahaul-Spiti districts. He also thanked the Chief Minister for upgrading the Manali hospital. The local panchayats also handed over the resolutions of providing required land for setting up of a University in the area to the Chief Minister.
Khimi Ram, MLA and President, State BJP, Kishori Lal, MLA Ani, Kunj Lal Thakur, former Minister, Chander Sen Thakur, Ex MLA, Dhaneshwari Thakur, Chairperson, State Women Commission, Net Ram Thakur, Chairman, APMC, Dharamvir Dhami, Senior BJP Leader, Ram Singh, District President, BJP, Bal Mukund Rana, BJP Mandal President, Reshma Thakur, Member Zila Parishad and other prominent persons were present on the occasion.