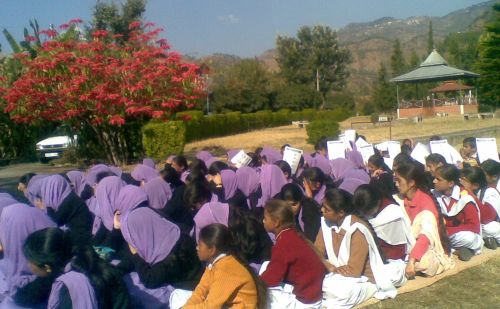 With the idea to generate awareness amongst the different section of the society, Shimla based NGO, Ashadeep organised a Diabetes Awareness and testing Camp for the youth and people from other sections of the society.
The camp was organized at Shantiyalaya BEd College, Rampuri Keonthal in the periphery of Shimla on December 10 that benefited 200 BEd Women College staff, students and villagers of the adjoining area. Diabetes awareness, testing and treatment was conducted in the camp in association with Shantiyalaya trust. Besides, blood test, diagnosis and free medicines were given at the camp.
Camp was organized by a team of doctors and medical staff headed by Indira Gandhi Medical College, Associate Professor, Dr. Jitender Kumar Mokta. Speaking on the occasion Dr. Jitinder Mokta underlined the need for early detection of diabetes as it was affecting and catching especially the young and added that
"Our immediate aim is to aware the different sections of the society about diabetes, to remove all the hurdles that come in the way of awareness of diabetes and educate them for prevention, early detection and treatment."
Dr. Mokta attributed changing sedentary lifestyle and obesity for the cause of diabetes as in present scenario the energy intake was higher as compared to the energy expenditure. He disclosed that the obesity trends in the adults were three times more. Talking about diabetes implication disclosed that if diabetes affects at age of 20, it could produce renal failure, blindness or amputation at the age of 45 which could also impact the economy of the country.
With obesity emerging as a major problem, he emphasized the need of doing away of fast foods that is fast emerging as a killer diet. He called upon all to adopt a healthy life style with exercise and intake of healthy food diet with lots of fruits and vegetables, the most important goal in diabetes treatment is to bring blood sugar level as close to normal in order to delay complications from diabetes, he said.
Working towards diabetes awareness across the state, Sushil Tanwar, President Ashadeep said that this was the twenty first such awareness camp organized by Ashaddep.
He said, " The objective of hold such a camp in Women Bed. College was to educate and sensitize the prospective teachers and mothers regarding a healthy approach to life and spread the message to the society at large."