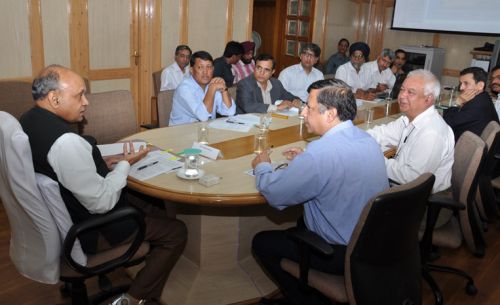 While presiding the meeting of 'Congress Grass Hatao- Chargah Bachao Abhiyan', Chief Minister said that a campaign will start to weed out Lantana, Congress Grass, Crafton and other harmful species of weeds affecting natural grandeur of the State and announces that a Steering Committee will be constituted under the chairmanship of Additional Chief Secretary, Forests and Principal Secretaries of concerned departments and Vice Chancellors of all Universities of Himachal Pradesh as its Members.
These harmful weeds are causing harm to the crops and are affecting the agriculture and horticulture sectors adversely. There is an immediate need to launch a campaign in association with the concerned departments, gram panchayats and nagar parishads for planting environment friendly species like bamboo, broad leaved and fast growing species after weeding out the harmful ones. Data shows that 3600 square kilometers area of the State is affected by such harmful species out of which Lantana only was affecting 1770 square kilometers and rest of the species on 1830 square kilometers.
Prof. Dhumal said that district level Committees will be constituted under the Chairmanship of Deputy Commissioners who would prepare district-wise plans funded by CAMPA and MNREGA which will be associated with other environment protection campaigns. He stressed upon developing private nurseries for catering to the needs of the farmers and added that atleast one 'Exhibition Farm' will be developed in every district where the farmers will be trained to weed out the harmful species from their land. He said that work plans to be implemented within 5-7 years would be prepared at the Forest Division level which would include growing of plants for initial two years and maintenance of nurseries for the next three years. He said that Agriculture, Horticulture, PWD and Rural Development Departments would prepare work plans for non forest and private lands under the scheme.
Chief Minister said that State Government had launched a plantation campaign for planting 'Peepal' and 'Bargad' on road side which will be continued in future also.
Earlier, Additional Chief Secretary, Forests S. Roy welcomed the Chief Minister and detailed about the campaign. He said that Task Force was being constituted by the Department to implement the campaign effectively. G. S. Goraya, Chief Conservator detailed out the features of the Campaign.