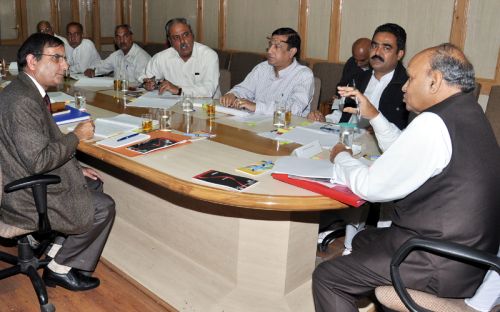 In the meeting of Board of Directors of the Forest Development Corporation, Chief Minister appreciated the corporation's work and advises to come up as a role model for other public sector undertakings in the State and intensify its efforts to earn more profits.
Chief Minister said that every public sector undertaking in the State should work as financial institution besides ensuring welfare of the people at large. He said that this was possible when all employees working in their respective organization feel a sense of participation and work with a competitive spirit.
It was informed in the meeting that the Corporation had fixed a target of Rs. 200 crore turn over during this financial year and giving royalty of Rs. 34.25 crore to the State Government. It was also decided in the meeting that officers of Forest Department and Forest Corporation will take up joint inspection of high lying timber lots so that more volume of such timber is provided to the Corporation.
Officials said that the nature tourism is gaining popularity and 398 tourists visited Narkanda Nature Camp during this year in the first quarter and occupancy remained 80 percent. There are six huts and ten tents in Narkanda Nature tourism complex and 10 tents in Jhalari complex.
The Board of Directors also approved restoration of insurance of stocks of the Corporation against fire for the year 2011-12. Additional Chief Secretary, Forest S. Roy, said that work of the corporation will be strengthened further.
Earlier MD of the Corporation welcoming R.K. Gupta, details of the activities of the Corporation and plan for the current financial year to the Chief Minister. Senior officers of the Forest Department and Forest Corporation, Official and Non Official Members of the Board attended the meeting among others.