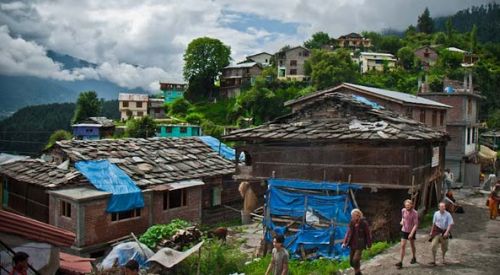 Before independence, Manali as a tourist destination was little known to the people outside. Only some officers of the British Govt., English travellers, trekkers, and adventure lovers dared to cross this land for official or some other purpose.
Prominent Britishers who visited Manali and beyond were George Trebeck & Moorcroft, JG Gerard, AFP Harcourt, Egerton, Alexender Cunningham, DUFF DUNBAR, G G Bruce, Penelope Chetevode, Lady Willington, Mr. & Mrs. Graff. Some of them who settled permanently here were the Banons and Johnsons, who married local belles and their decedents are still in Manali.
Retired British army officers, who settled in Kullu valley were Lees of Bandrole, Rennicks of Bajaura, Minikens of Raison, Donalds of Naggar, Theodors of Dobhi, Tysons & Mackenys of Katrain. Captain Lees of Bandrole was the first person, who experimented apple cultivation in Kullu valley in 1870. He planted British varieties of apples such as coxes Blenheim, orange, newton, russet, marie louise and William pears and had tremendous success.
A decade later after independence Manali, as a tourist destination came to sudden limelight when first Prime Minister Pt. Nehru a great lover of mountains and nature visited Manali in June 1958 for his month-long holiday.
Twin visits of Pt. Nehru made Manali overnight a most sought after destination for the people through the world. Another turning point for making Manali a tourist paradise was the establishment of Western Himalayan Mountaineering Institute in 1961.
The construction of Mandi-Kullu road in 1927-28 paved the way for inflow of tourist traffic. Till then there was no accommodation available for staying tourists in Manali. Perhaps, it was Major H M Banon who constructed a first guest house in Manali named Sun Shine Guesthouse. It was only after 1958 people and the Government felt the need for constructing guest houses hotels, which could boost tourism and uplift the economy of the people. Now after seeing many ups and downs, Manali can boast off having tourist infrastructure, suiting to every kind of tourists.
Manali is the only tourist destination where tourists can find snow through the year. Beautiful landscape, high pinnacled snow-covered mountains, thick forests of deodar, ancient temples, monasteries, fairs and festivals, lakes, natural waterfalls, river rafting, paragliding, snow sports, rock climbing and expeditions are some of the breathtaking events which lure tourists towards Manali.
Mohan Lal Relingpa