The Joint Multi Adventure Expedition of HPTDC, Himachal Tourism and Indian Air Force was launched today. The Air Devils of the Indian Air Force carried out para dropping, para sailing and para motoring activities at Jubber Hatti, near Shimla to kick off the expedition where large number of students, tourists and locals witnessed the amazing actions of Indian Air Force Team.
The Wing Commander S.S. Malik, Director, Directorate of Adventure, Indian Air Force and Sqn. Ldr. Nisha Goverdhan, who hails from District Shimla of the State, were also part of the expedition team.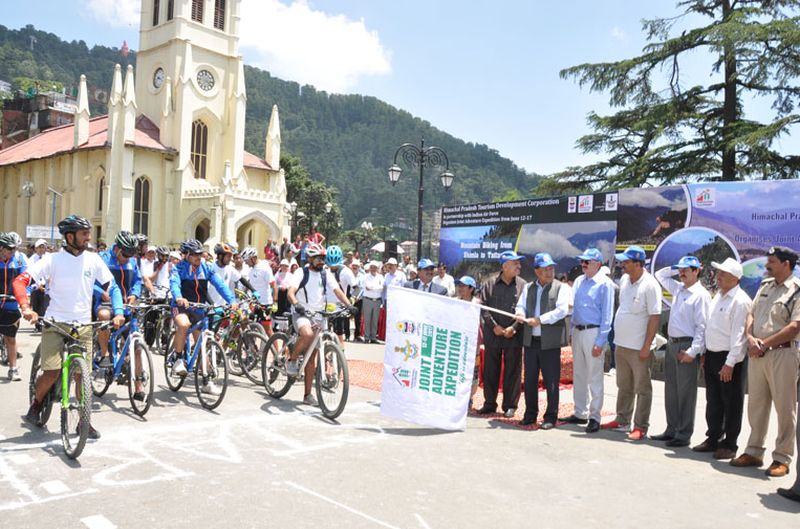 The Mountain Expedition from Shimla to Tattapani was flagged off by Chief Secretary V.C. Pharka from the Ridge, Shimla. The local cycling association also accompanied the Indian Air Force team and joined Mountain Biking expedition from Shimla to Naldehra.
The expedition will be further continued where Indian Air Force team will carry out Paragliding at Bir Billing, Trekking and camping from Manali to Beas Kund and River rafting at Kullu.
The six days joint adventure expedition aimed to promote adventure tourism potential of Himachal Pradesh. In the expedition Indian Air Force Officers will carry out adventure activities like Parasailing, Paramotor, Mountain Terrain Biking, Trekking in Himachal Pradesh during this event.
The expedition includes Parasailing, Paramotor over Shimla Airport (Jubbar Hatti). A joint team of IAF and HPTDC would participate in Mountain Terrain Biking (MTB) competition at Shimla, Paragliding at Joginder Nagar (Bir Billing), Trekking at Beas Kund and River Rafting at Pirdi (Kullu).
The students of local schools, Police and ITBP personnel, Local cycling Association, Hotel and Restaurant Association, National and Local Media, Travel Writers and local dignitaries are taking part of this expedition.
This event will be first of this kind which will be jointly organized by Indian Air Force and Himachal Tourism to showcase adventure opportunities in Himachal Pradesh as well as to encourage our young generation for joining Indian Air Force services.
The main objective of joint Multi Adventure Expedition is to inculcate a spirit of adventure and teamwork among air warriors. The joint expedition with HPTC will give exposure to our air warriors and will promote the motto 'Join the IAF with Pride' and will provide wide publicity to Indian Air Force.
Managing Director HPTDC Dinesh Malhotra said the Joint Adventure Expedition with Indian Air Force has been arranged to showcase the vast adventure opportunities available in Himachal Pradesh.
Malhotra said the Corporation has also introduced adventure tourism packages various variety of adventure activates and integrated with boarding, lodging and transportation, and further to carry out adventure activities as per needs and preference of the guests, the HPTDC would tie up with various agencies at different parts of the State. Malhotra said that Himachal has vast potential of adventure activities that can be explored to promote tourism of the state.