Nahan: In a tragic accident six children and driver of a school bus died when the vehicle fell into a gorge on today morning near Khadkoli in Renuka Ji Assembly constituency of Sirmour district.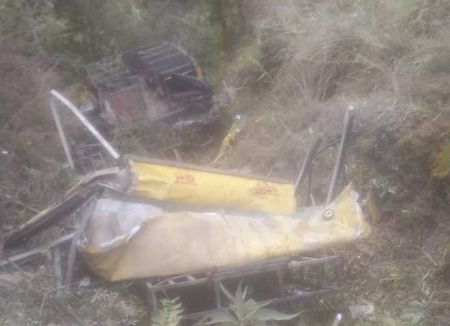 As per the reports, the bus of Dadahu Aadarsh Vidya Niketan School carrying 18 school children skidded off the road near Khadkoli on Dadahu-Sangrah road at around 8 AM. Three school children and the bus driver died on the spot whereas three other children were reported to be brought dead at Nahan civil hospital. Five seriously injured children have been referred to PGIMER, Chandigarh whereas seven others have been hsopitalised in Nahan hospital.
Governor Chief Minister Jai Ram Thakur have expressed deep grief over the death of seven persons including six school children in a school bus accident.
The Chief Minister has directed the district administration to provide best possible assistance to the families who lost their near and dear ones in this accident. He also directed to ensure provide best medical treatment facilities to the injured children.
Speaker, HP Vidhan Sabha Dr. Rajiv Bindal along-with the Deputy Commissioner Lalit Jain immediately rushed to the hospital to meet the injured children and made arrangements for immediate shifting of seriously injured children to Chandigarh.
The district administration provided immediate relief of Rs. 20,000 each to the family members of the deceased and Rs. 10,000 to the injured. Besides, the Deputy Commissioner also provided Rs. 50,000 from the Red Cross Fund to the injured, who have been referred to PGIMER, Chandigarh.