Himachal Pradesh University celebrated its 24th Convocation today. President of India Ramnath Kovind was the chief guest. The President awarded gold medals to eleven meritorious students of the University.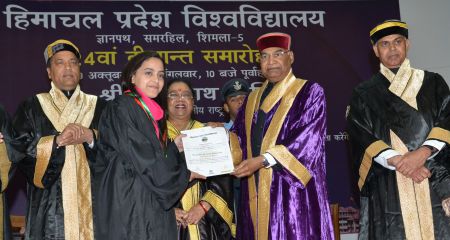 The President congratulated the medal recipients and wished for their prosperous and bright future. He presented gold medals to Deepika Sharma, Kiran Sharma, Sheetal Verma, Renu Devi, Sakshi, Shailja Thakur, Chinta Devi, Akshita Thakur, Kritika Sharma and Archa. He also conferred PhD degree to Akshya Kumar.
As many as 230 gold medals and 180 PhD degrees were awarded to meritorious students on the occasion.
Presiding over the function, Governor Acharya Devvrat said that India remained 'Vishva Guru' in the field of education, where students from all over the world used to come for studying in renowned educational centres like Nalanda and Takshsheela. The main focus in education during that era was on creating good character along-with knowledge of words so that any person did not find it difficult to get success due to adverse conditions or challenges.
Chief Minister Jai Ram Thakur said that the state government was committed to provide quality education to the students in the state by strengthening the existing infrastructure. He said that the motto of the government was to make Himachal Pradesh an 'Education Hub' of the country.
Vice Chancellor, Himachal Pradesh University Prof. Sikander Kumar welcomed the President, the Governor, the Chief Minister, Ministers and other dignitaries present on the occasion. He said that it was an historic day for the University as President of India graced the 24th convocation ceremony.