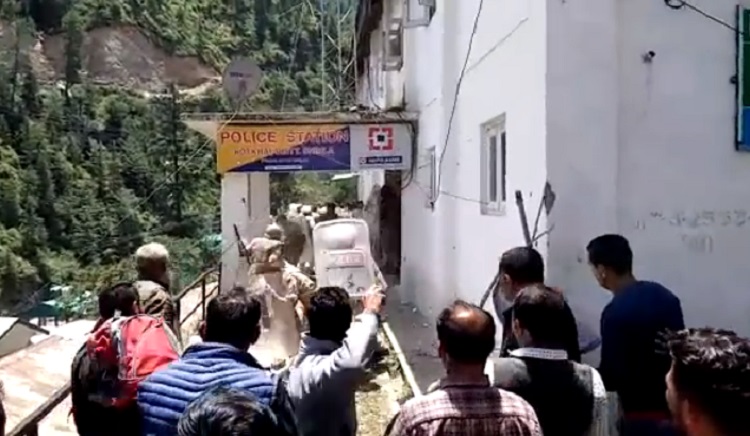 Kotkhai rape and murder case has taken another turn today as one of co accused is reportedly murdered inside his cell at the Kotkhai police station. As per report co accused Surat Singh (29) was allegedly killed by the main accused in the case, Rajender Singh alias Raju, following a scuffle on Tuesday night.
As per police the murder took place around midnight when a guard heard some noise from inside the lockup. He immediately rushed inside the cell but couldn't save Suraj.
The state government has ordered immediate shifting of all the policemen, including the SHO at Kotkhai police station.
Meanwhile, agitating local has gathered at Kotkhai. Angry protestors pelted stones at police and also tried to burn the police station. Angry mob forcibly entered into the police station and police staff posted there ran to save their lives.
The protestors set up ablaze the articles of police personnel including documents, computer, and confiscated drugs like opium and liquor bottles inside the police station. They also set police vehicles afire at Koku Nullah.
Failing to control the situation and to disperse the angry mob gathered outside the police station, the police also fired in the air, which only makes the situation worse. Additional police forces were sent to the area to maintain law and order.
Local legislature and Chief Parliamentary Secretary Rohit Thakur has termed the custodian death of one of co-accused most unfortunate and major blow to the on-going probe.
Thakur demanded judicial probe into this incident. He also demanded State Human Rights Commission inquiry into the whole episode, so that the culprits could be brought to the books. He said that the state government would not hesitate in taking tough action against the state officials, if any laxity was found on their part.
Soon after SIT report, which was constituted to investigate the case, victims family along with locals were protesting and within two days protests erupted in many part of the state and outside also. Protestors claiming of covering up and blaming police for shielding real culprits.
Earlier, the state Government had constituted a Special Investigation Team (SIT) for nabbing the culprits, and after two days of investigation, six accused were arrested. Accused arrested are Ashish Chauhan (29), Rajender Singh (32) Subhash Singh Bisht (42), Surat Singh (Nepali) (29). Lokjan (Nepali), age 19 years and Deepak (38).