Theog/Shimla: Under pressure from increasing public anger, the state government has refer the Gudia rape and murder case in Kotkhai to the Central Bureau of Investigations (CBI).
Chief Minister Virbhadra Singh, after returning from two days tour of Kullu, said that a high level team was constituted for investigation after the matter came into notice and a police team led by an officer of the rank of DGP himself went for probe. The rape and murder of Gudia shook the sensibilities of the people of the Devbhumi, he said.
The state Government had constituted a Special Investigation Team (SIT) for nabbing the culprits, and after two days of investigation, six accused were arrested. Accused arrested are Ashish Chauhan (29), Rajender Singh (32) Subhash Singh Bisht (42), Surat Singh (Nepali) (29). Lokjan (Nepali), age 19 years and Deepak (38) under section 302, 376 IPC & 4 of POCSO Act at PS Kotkhai.
Dissatisfied with the police investigation and its claims, people of the region protested today at Theog. Thousands of people participated in the protest, which turned violent, in which police vehicles and police station was damaged.
Angry protesters even wend their anger over top officers and damaged vehicles of the Shimla SP, Theog SDM and Theog SHO who have been gheraoed inside the police station.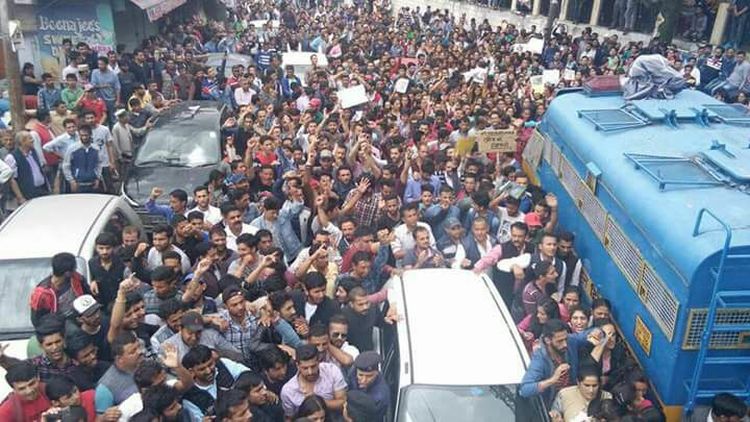 The locals, blaming police and administration for protecting real culprits, also blocked traffic on the NH-5 and also raised slogans against the government.
Meanwhile the Chief Minister nullified any wrongdoing in the investigations and claimed protest politically motivated. He said
"I may say that the entire mayhem and incidents of destroying of public property at Theog, today was politically motivated, as instead of having sympathies with the family of Gudia, the matter was being given a political color"
Notwithstanding this, the government has decided to refer the matter to CBI, so that no doubts were left in anybody's mind, said the Chief Minister.