India is known for its capability of forgiveness and corrections. Himachal Pradesh has also contributed in this altruistic legacy. Anyone needing asylum as protection of life against a possible threat is always welcomed in India. Even in the worst and hostile conditions, the state has proved that foremost act of humanity is to let go the hatred and give chance to flawed persons. Transformation of a dacoit into a saint is only possible in a country like India.
A society could be measured by the way it treats its prisoners. A prison or jail is a place in which people are physically confined and usually deprived of a range of personal freedom. The system of prison administration in India is ages-old.
Dagshai Jail was constructed by British Empire at Solan district of Himachal Pradesh in 1849 having 54 cells, out of which 16 were for solitary confinement. It is now transformed into Dagshai Jail Museum for the tourists.
Generally the offenders are ostracised by the society all over the world. But in India, we try our best to rectify their mistakes and offenses by guiding these outlawed towards the path of reform and help them in redeeming their respect for resuming their lives in a novice manner. In a humane cause, the State is working for the welfare of the prisoners in an efficient mode.
"Prison" falls under state subject in List II of the Seventh Schedule to the Constitution of India. The administration of Prisons falls in the hands of the state Governments, and is governed by the Prisons Act, 1894 and the Prison Manual of the respective State Governments.
The institution of prison has imbibed and is influenced by the conventional norms, ideals and assumptions of humanitarianism, enlightenment and the welfare state. The prison is an instrument of the State, shaped by its social milieu and a stage of social and economic development for prisoners. Modern penologists do not believe in purposeless punishment. They believe that a criminal is a patient and he/she be treated with humanity.
The Transfer of Prisoners Act, 1950 was enacted for the transfer of prisoners from one state to another for rehabilitation or vocational training. For women prisoners' rehabilitation in the state, employment training has a pivotal role. Consequently, work in prison has been given such potential economic worth and utility that all women in custody are provided with opportunities to engage in self-employment programmes. Training of women prisoners in an area of great relevance to correctional work and to the process of restoration of their life after serving the sentence is being provided in the jails of the state.
State's outlined Jail reforms have focused on issues like healthy and balanced diet, cleanliness, satisfactory living conditions for prisons around the state. The arrangement for facilitating communication between prisoners and their relatives, friends and legal advisors were also provided to prisoners. The state has adopted a dynamic and constructive role with regard to prison reforms. State government has stressed on the improving the conditions of the prisons in the hilly region.
The vibrant role of Indian Judiciary has changed the attitude towards the rights of prisoners and reformation of prisons by treating prisons as correctional rehabilitative institutions. There are two Modern Central Jails in Nahan and Kanda. District Jails are in Dharamshala, Chamba, Mandi, Kullu, Kaithu (Shimla), Solan, Una, Hamirpur besides a Sub Jail in Nurpur. There is also an Open Air Jail in Bilaspur. Open-Air convicts are those convicts who are serving their sentences in a good and faithful manner for an acceptable period. The State government has created Prison Welfare Fund for the welfare of prisoners.
Inmates are working in Weaving, Tailoring, Carpentry, Canteen, Bakery, Jail Garden, Jail Diary, Mobile Van (Vegetable), Mobile Van Pickup, Hospital Canteen, Prisoner Mess, Warder Mess, Cleaning Works, Car Washing, Laundry and Hair Cutting. 2837 prisoners were engaged in the different activities at the jails in Financial Year (FY) 2016-17. Rs. 8258454 was paid as wages to prisoners in the FY 2016-17. Total profit of Rs. 5547072 was earned in the FY 2016-17. The profit earned is utilized in the welfare activities for the prisoners.
The Book Cafe in Shimla at Takka Bench is funded by the State's Tourism Department was jointly built by the State government and the Prisons Department. Inmates of Kaithu (Shimla) Jail are running the cafe.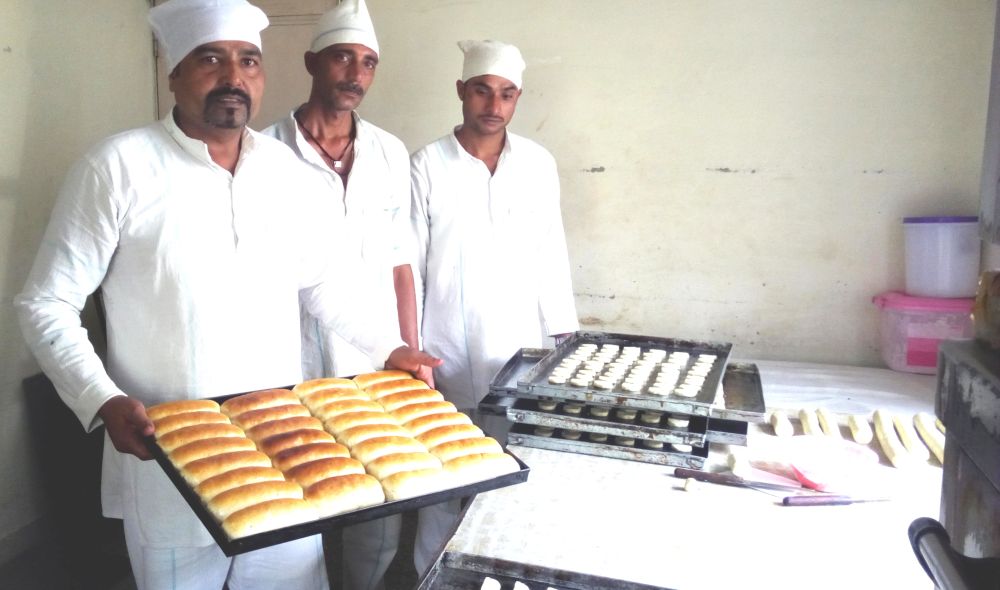 Mobile canteens run by inmates are serving food on reasonable rates at Indira Gandhi Medical College and Himachal Pradesh University in Shimla. Various bakery products are prepared by prisoners at Kaithu (Shimla) and providing supply to Book Cafe, Shimla. Wielding of racks, Flower Pot stands made by prisoners were recently exhibited at Gaiety Theatre in Shimla. Diary run by inmates is meeting the in-house supply for milk.
A Vermi-compost plant at Solan is providing the quality organic manure to the farmers and horticulturists. Similar plants are also coming up at Nahan and Dharamshala. Car Washing Centre and Laundry and Dry Cleaning are manned by inmates at Dharamshala.
In conclusion, the prison justice and rehabilitation of prisoners is only a part of the larger social regeneration. The State Government and Prison Administration with the help of NGOs and Social Active Groups are successfully rehabilitating the prisoners by making humble efforts to set right the prisoners.