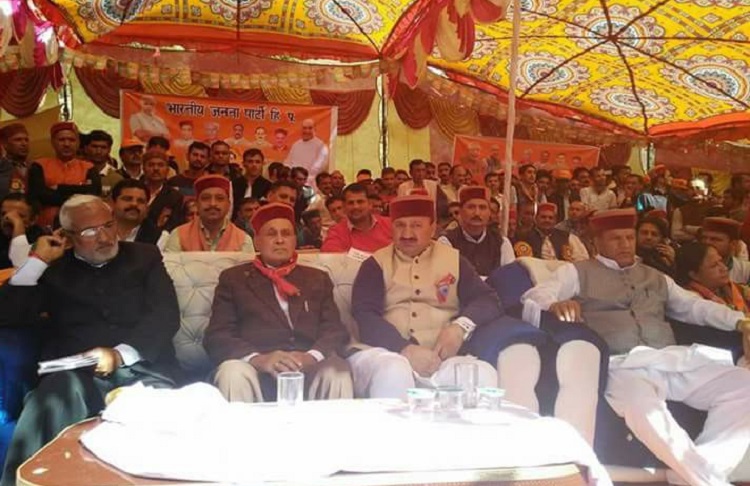 Nerwa/Chopal: Eyeing at the 2017 assembly election, Chopal legislature Balbir Singh Verma today join BJP at a function at Nerwa. Former Chief Minister Prem Kumar Dhumal, BJP state president Satpal Satti, MP Virender kashyap, Rajiv Bindal and other party leaders were also present at the occasion.
Balbir Verma stated that he's committed to the development of the Chopal region and his move of joining BJP is a stepping stone in this regard. Hailing the leadership quality of Prime Minister Narender Modi, Verma said that he is impressed with Modi's policies and initiatives.
Criticizing two capital theory in the state, Verma called it an unnecessary political move and will affect state exchequer adversely. He also criticized Congress led Government for ignoring Shimla city. He claimed that Dharmashala was wrongly rated above the Shimla city for Union Government prestigious and ambitious Smart City Project.
Balbir Verma won Chopal assembly segment in 2012 as an independent candidate and become associate member of the ruling Congress party.
Verma was considered as a close associate of Chief Minister Virbhadra Singh and sudden turnaround is no less than a surprise to everyone. He was even considered as a possible Congress candidate from the Chopal segment.
Chopal Congress has already condemned the decision of Balbir Verma and called him opportunist. Fromer legislature Subhash Manglet and Secretary, PCC Rajneesh Kimta have accused Verma for betraying the people of Chopal assembly constituency. They said
"It seemed that Balbir Verma had extended support to the congress party as an associate member just to achieve his selfish motive and to get his personal works done. His deeds and intentions reveal that he always had a soft corner towards the BJP somewhere in his heart"
Dr. Manglet and Kimta said that it was his habit to look on for green pastures and then depart after the personal motive is achieved.