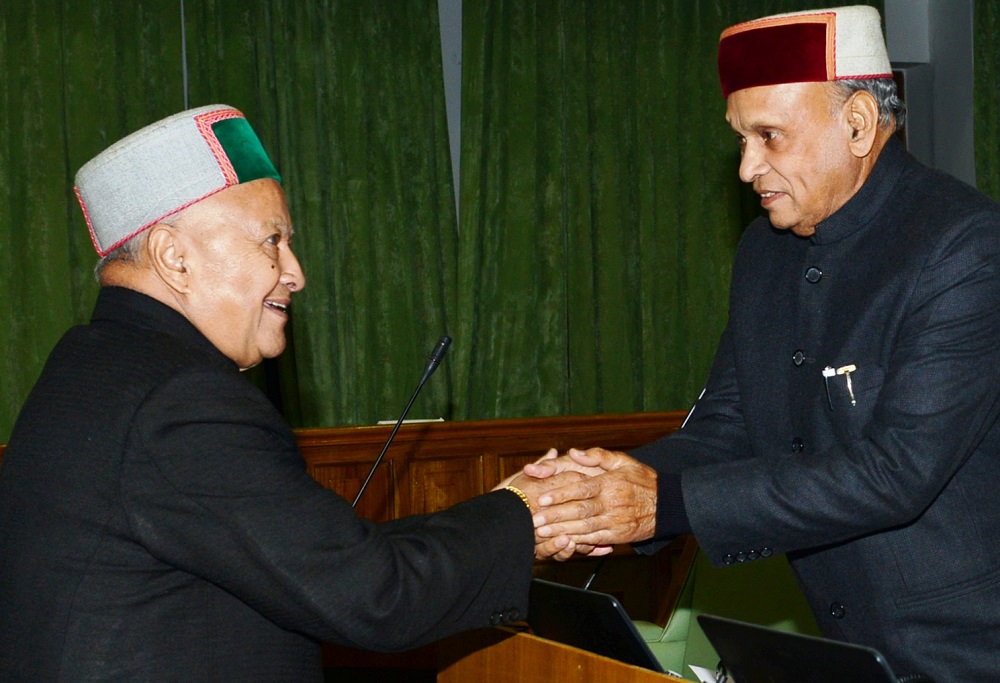 Tapovan: The Himachal Pradesh assembly, on the second day of winter session, witnessed uproar in the House as members of the opposition demanded debate on the corruption cases against Chief Minister Virbhadra Singh.
Opposition member were demanding for the debate under Rule 67, but Vidhan Sabha Speaker Brij Bihari Lal Butail denied permission citing reason of matter being sub judice. Opposition members Suresh Bhardwaj, Ravinder Ravi, Rajeev Bindal and Randhir Sharma were continuously demanding for the debate. Denied permission from the Speaker, agitated BJP members walked up to the Speaker's podium, raised slogans against the Chief Minister and disrupted the proceedings of the house.
Members of the Congress party also raised slogans against the Union Government's decision of demonetisation of high-denomination currency notes.
Amid ruckus, Speaker started the house proceedings, but with continues disruption, speaker adjourned the house for 15 minutes and later when house re-assembled, the opposition members again demanded debate on the issue and rushed to the well of the house and disrupted the proceedings again by shouting slogans. The Speaker then adjourned the house for the day.

This is not a first time when opposition has disrupted the house over demanding discussion in the house over the corruption cases against Chief Minister. Most of the assembly session in the past three years have been disrupted and crores of public money have been wasted.