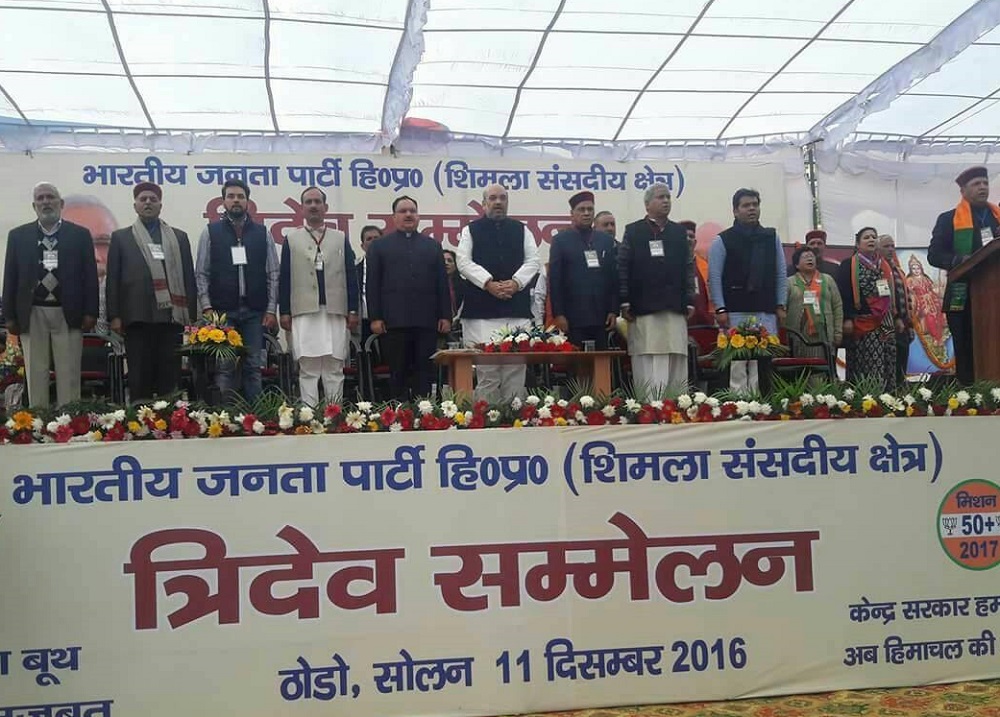 Solan: BJP president Amit Shah today asked party workers to gear up for the forthcoming state assembly election.
Shah, while addressing party workers at the 'Booth Karyakarta Sammelan' at Solan' targeted at the state government and called it a most corrupt government in the history of the state. He asked the booth-level workers to highlight the issues of corruption in the state and ensure that the government collapsed under its own weight.
BJP President termed Himachal assembly election important to achieve party's goal of 'Congress Mukt Bharat.' He asked party workers to break the jinx of giving merely one term to a government and directed to work aggressively to ensure that the BJP comes to power with overwhelming majority that makes party ground for BJP led government for 20 years.
He believed that BJP has given a clean government unlike Congress led tainted UPA Governments for 10 years. He claimed that Congress led Union Government was responsible for 12lakh crore scams during its tenure, while in the past 2.5 years of Modi government, BJP has successfully run a clean Union Government, Shah further claimed.
BJP National President also supported Prime Minister decision of demonetizing of Rs. 500 and Rs. 1000 currency notes and called it in a favour of the nation. He said that demonetisation will ensure to weed out the black money and so far has successfully targeted at the corrupt. Demonetisation has hit hard at the terrorism, nexalites, fake currency rackets, drug business and also demolished a parallel economy in the country, he further claimed.
Shah also not forget to mention surgical strike by the Indian Army across border and called it major change in the outlook of the Union Government. He also detailed out 92 programs initiated by the Narender Modi led Union Government with party workers and asked them to take to the every single electorates in the state.
Quick to respond to the allegations of the BJP National President, Congress veteran leader and state Chief Minister Virbhadra Singh blamed Shah for making corruption charges against the State Government without any evidence.
Singh, while talking to media at Shimla, also ridiculed the claims of BJP leader of forming Government in the state and called it a distant dream. Taking jibe at the Shah's call to its workers of forming a Govt for 20 years in the state, Singh said the people of the State were the better judge to make out the difference between functioning of both the BJP and Congress, and hopeful of repeating in the state.
The Chief Minister also blamed BJP for issuing sensational statements only to grab the attention from the general public. He also denounced the statements against former Prime Ministers. He stated the Congress leadership had given most reputed Prime Ministers, like Jawahar Lal Nehru, Indira Gandhi, Lal Bahadur Shastri, Rajiv Gandhi, PV Narasimha Rao and Manmohan Singh. to the country under whose leadership the country progressed leap and bounds.