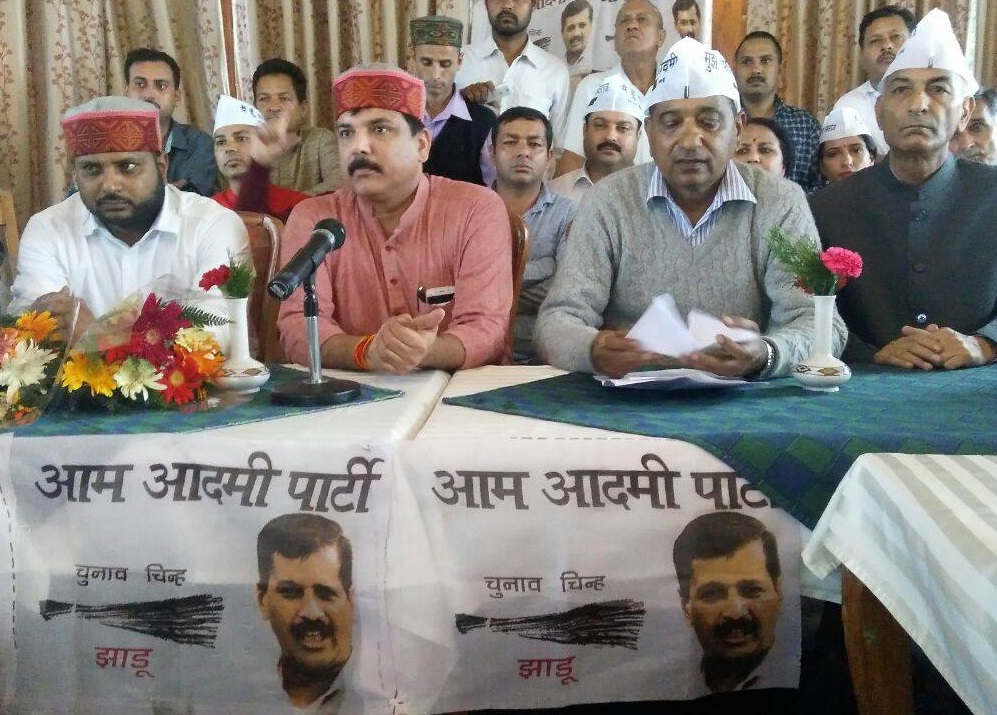 Shimla: The Himachal Lokhit Party's breakaway group, which defied the party chief Maheshwar Singh, officially joined Aam Aadmi Party (AAP).
The leaders of the breakaway group, including former minister Mohinder Nath Sofat, Subhash Sharma, Dharam Chand Guleria announced merger of the party, along with their supporters in the presence of AAP Himachal Pradesh in-charge Sanjay Singh.
Addressing press, Sanjay Singh announced to contest all 68 assembly constituencies of the state in the forthcoming election slated to be held later next year. He stated that after the election of Punjab and Goa AAP would focus on the Himachal Pradesh and hoped to emerge as third force in the state.
Sanjay Singh said that party has fixed the target of making 10 lakh members in the state. He said committees would be formed at booth, block, district and assembly levels and in coming days a big public rally would also be held in Himachal Pradesh.
Singh claimed that people have fed up with both the BJP and the Congress, and the corruption in the current government would ensure emergence of AAP as a major force. Training guns at the BJP as well, Singh stated that the situation in BJP was no better and people had seen its regime twice in the past during past 18 years.
AAP, which is now strengthened with merger of the breakaway group of HPL would also launch an agitation against corruption in the government, he added.
Prior to the State assembly election 2012, on the issue of corruption during the BJP regime former BJP state President Maheshwar Singh, along with some other party leaders, formed Himachal Lokhit Party. Party contested most of the seats, but could manage to win lone Kullu seats. Failing to its political aspiration, party leaders, most of whom came from the BJP, just before the parliamentary election 2014, started returning to the BJP fold. On 14th August 2016, Maheshwar Singh, after failing to pursue other leaders, announced merger of the party with BJP.