Shimla: Promising to give clean and progressive political front in the poll bound Himachal Pradesh, National Freedom Party, spearheaded by Vivekananda Foundation, is mulling to contest all assembly seats in the forthcoming election.
Mahender Nath Sofat, former BJP leader and Himachal Lokhit Party founder member, who is a state convener of National Freedom Party, confident of emerging as a third front in the state. Blaming ruling Congress and opposition BJP for corruption, Sofat said that crime rate in the Himachal Pradesh is increasing swiftly and even the state police has failed to deliver justice to rape and murder victim.
Sofat, who had toiled hard with Maheshwar Singh and other saffron leaders to form Himachal Lokhit Party in the state and now most of its leaders have rejoined the saffron base, accused the Congress and BJP for the pathetic state of affairs. He claimed of no real growth oriented initiatives have taken by any of the government. He claimed that unemployment is at its zenith today and corruption has plague the system and adversely affecting the law and order situation.
He said that unemployed youth are being denied fair chance to compete as back door entry are prevalent in the state from past couple of decade. Sofat said that National Freedom Party will engage and mobilize the youth and other stake holders of the state to join party which seeks to reform the system and would provide better governance.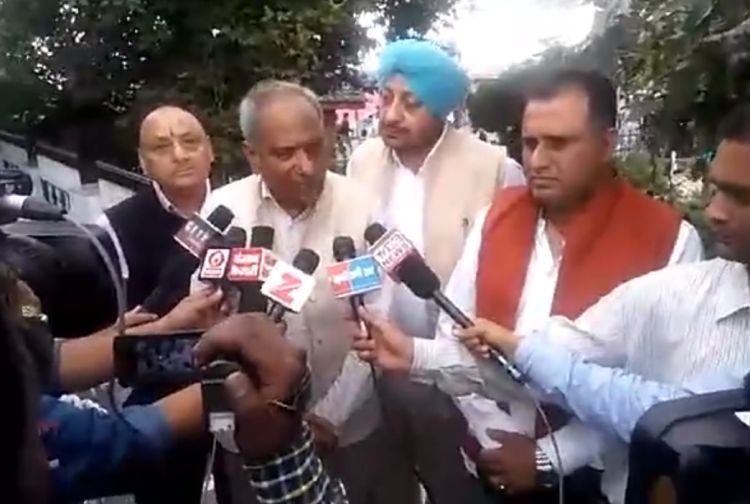 Vivekananda Foundation is a New Delhi-based NGO engaged in social work and was recently in news during the Punjab Election- when it had announced electoral alliance with Aapna Punjab Party (APP) founded by Sucha Singh Chhotepur-who had left the Aam Aadmi Party. The foundation claiming lakhs of supporters across the country.
The politics of Himachal is dominated by Congress and BJP only. Since its inception, CPM, BSP, NCP, LJP and other party had unsuccessfully tried in the state, and after the election none of political majors could have muster the support of the electorates. CPM has restricted in few pockets and political jumpers have given some resistance to the Congress and BJP, but the concept of 'third front' had only restricted on the paper, however, damages chances of ruling party only. Mahender Nath Sofat, once a strong saffron leader and one of founder member of BJP in the state, had tried with Himachal Lokhit Party and was working to bring Arvind Kejriwal led Aam Admi Party to the state, seems adamant to at least give resistance to major political parties in the state. It'll be too early to comment on its modus-operandi, however, it'll be interesting to check its development in the state.