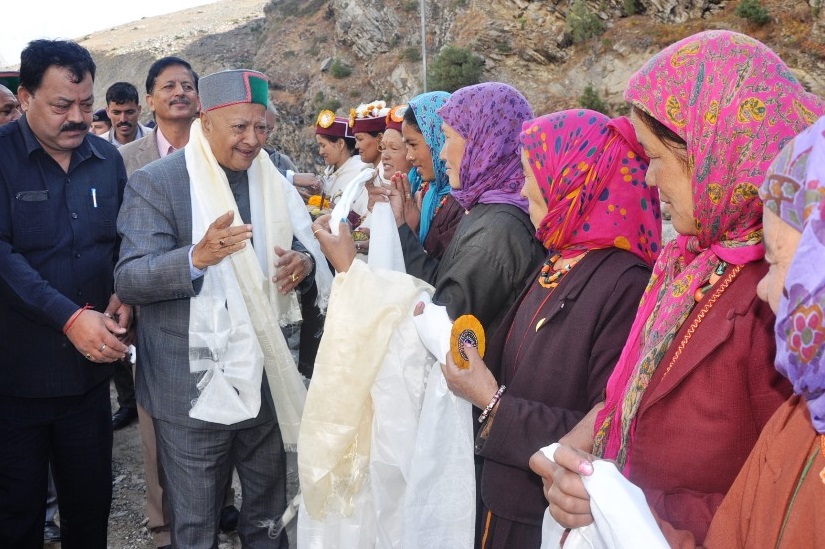 Chhaling/Udaipur: Chief Minister Virbhadra Singh today directed the Lahaul-Spiti administration to rehabilitate the Changut villagers by providing them Nataud as the entire village was washed away in flashflood due to cloudburst on 14 August, 2014.
The Chief Minister, while addressing a public meeting at Chhaling in Mayyad valley of Lahaul today, said it was due to compulsion that the people of the few villages who very affected by flash floods occupied government land. He directed the administration to restore their electricity connections.
The Chief Minister announced ambulance service in PHC Tingret and assured for setting up VSAT mobile towers to cover villages falling under Chimret panchayat.
Virbhadra Singh said the work on bridges wherever to be constructed in Mayyad valley should be undertaken on priority and directed Public Works department to speed up work on existing roads. He also directed to expedite work on Khanjar Bridge, the last village of Mayyad valley.
He said so far, out of total 28 panchayats in Lahaul valley, 27 panchayats had already been connected with roads and the remaining Naalda panchayat would get road facility as the work on the bridge was on progress. He inaugurated Indoor Gymnasium at Udaipur constructed at a cost of 1.90 crore and Karpat bridge constructed at a cost of Rs. 1.44 crore.
He announced for providing adequate financial assistance for renovation and repair of Trilokinath temple and assured for fulfilling other demands sympathetically. He assured to look into the demand of providing Tehsil status to Udaipur after due consideration and consultation. He said 500 solar lights had been installed in Lahaul valley under Jawahar Lal Nehru Solar Mission and almost 17 to 18 lights had been installed in every single panchayat.