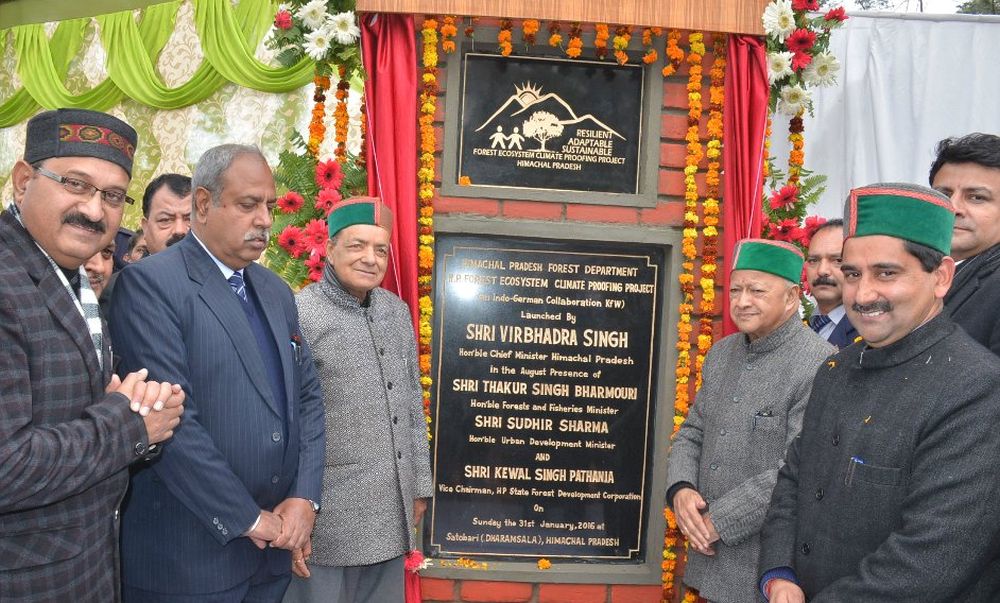 Chief Minister Virbhadra Singh today launched Rs 310 crore Himachal Pradesh Forest Eco-system Climate Proofing Project at Satobari in Shahpur assembly constituency of Kangra District.
The Project aims at managing forests in such a way as to minimise and mitigate the effects of climate change together with enhancing the bio-diversity in the present Himalayan Eco-system, besides making the forests resilient to the risks of climate change. Apart from this, it will enhance the adaptive capacities of local communities to cope up with the negative impacts of climate change.
The Eco-system Climate Proofing Project has been launched with German collaboration with funding from German government-owned development bank KfW Bank and would be implemented for six years in eight forest divisions of Chamba and Kangra districts based on climate vulnerability assessment. It would provide direct and indirect employment to about 1.5 lakh people of 600 cluster villages.
Virbhadra Singh said the Project would be implemented through local registered societies. He said that a sum of Rs 3.33 lakh would be deposited in the bank account of each registered society on the condition that the societies so formed will work with commitment for preservation of forest and cattle wealth, food and fodder.
The CM said that the Project would go a long way in improving and enhancing fodder production capacity of forests and pastures by rehabilitation of forests areas infested with lantana in about 15000 hectares area of both the districts. He said efforts would be made to plant more broad leaved trees which would cater to the fuel and fodder demands of rural population.
Chief Minister said that under the Project bamboo forests would be improved in as many as 1000 hectares, besides reviving the traditional water springs and catchment areas of around 150 nallahs. Apart from this, plant nurseries comprising of broad leave plants would also be developed and the existing ones will be improved, said he.
He said that Eco-system Climate Proofing Project would provide an opportunity to the rural people to earn their livelihood through livestock management. He said that the people associated with the registered societies would also be imparted training within and outside the country and to enhance income of the societies, micro schemes associated with forestry and management of livestock would be simultaneously improved.
Forest Minister Thakur Singh Bharmouri said that the Project will regenerate the forest areas besides providing employment to the rural populace.
Urban Development Minister, Sudhir Sharma, Principal Chief Conservator of Forests S.P. Vasudeva representative of KfW bank Sangeeta Aggarwal were also present among others.