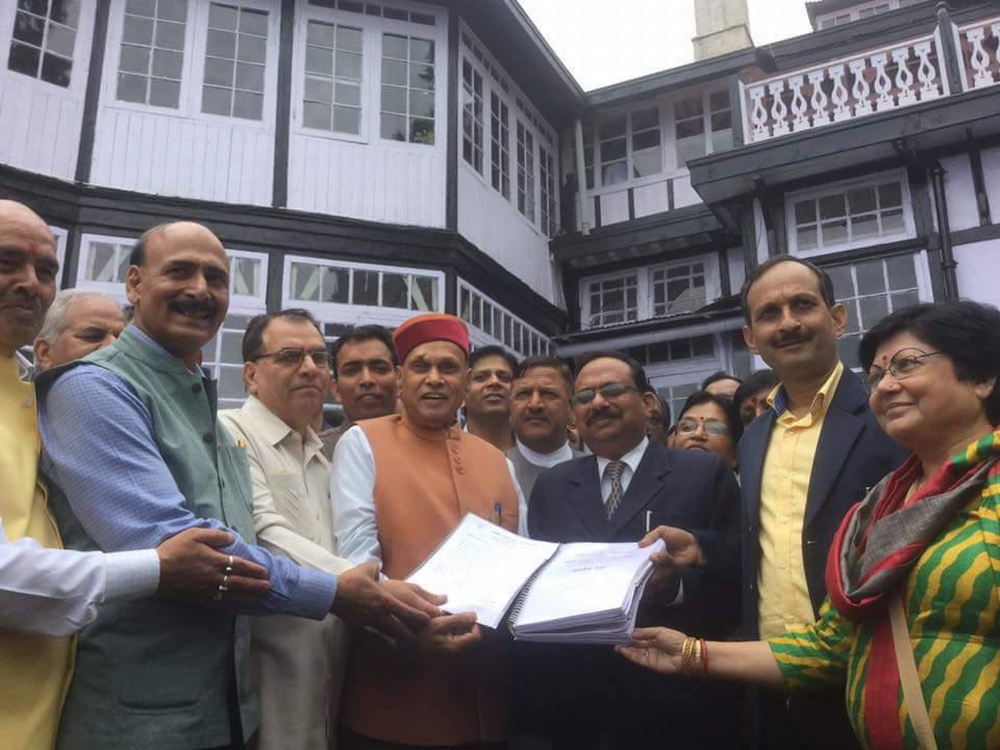 Himachal Pradesh BJP Thursday submitted chargesheet titled 'thirty months, thirty charges', against the Virbhadra Singh-led state government accusing government for rampant corruption and scams.
The state BJP, led by Prem Kumar Dhumal, former Chief Minister, and state BJP president Satpal Singh Satti, submitted a 34-page chargesheet with Governor and demanded present government dismissal and CBI enquiry into the charges.
The BJP also attached over 250-page documents in support of the charges.
The BJP, in its chargesheet, targeted Chief Minister Virbhadra Singh on the allegations under investigation by CBI and his office.
Leader of Opposition Prem Kumar Dhumal, taking jibe at the Congress celebration of completing thirty months in the office, said that Congress itself not sure to complete its tenure.
Senior BJP leader Suresh Bhardwaj, who's convener of the chargesheet committee, stated "it's first instalment of charges against the government to be followed by more revelations at regular intervals."
Meanwhile, Himachal Chief Minister Virbhadra Singh hit back at BJP and accused them for indulging in bickering and mudslinging.
The Himachal Congress also termed the chargesheet as a "bundle of lies" attempted at misleading the people by levelling "unsubstantiated accusations."
Congress leaders Harsh Mahajan, Ram Lal Thakur, Kuldeep Pathania and Dr. Subhash Manglate, in their joint statement, termed allegations imaginary and beyond the facts.
Congress leaders blamed BJP for racking up non-issues to remain in the limelight. They said BJP always consider Virbhadra Singh as its major political hurdle and threat and this was why they always keep leveling unfounded accusations against him and efforts were also being made to entrap him by framing false cases.