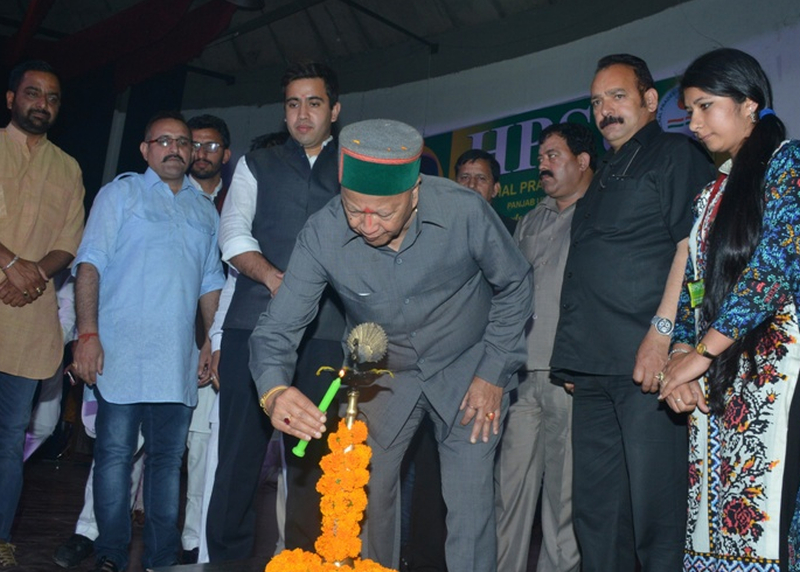 Himachal Pradesh Students Union of Punjab University today organized an Annual Cultural function "Ek Shaam Himachal Ke Naam" at Punjab University Chandigarh today. Chief Minister Virbhadra Singh presided over the function.
In his address Virbhadra Singh lauded the efforts of the Union in furthering the rich and diversified cultural aspects of Himachal Pradesh at the seat of learning in Punjab University Chandigarh. He said that the students of the Union were the ambassadors of Himachali culture and these traditions should be kept alive. He said
"The bright side of art, folklores and folk culture is fast loosing grounds in the fast moving world and the State government has decided to open a College of Fine Arts soon in the State. It will help in restoring and reviving the old art and culture. It will go in to strength the rich cultural heritage of the state"
The Chief Minister also released a souvenir on the occasion. He announced Rs. 2.5 lakhs for cultural activities of HPSU.
Vikramaditya Singh, President, State Youth Congress lauded the social and welfare activities of HPSU in Punjab University. He said that the youth of the country played an important role in building a strong nation and youth were the future of the country.
Dr. Subhash Manglet, Chairman, Marketing Board and Baba Hardeep Singh, Chairman, H.P Buildings and Other Construction Workers Welfare Board were also present on this occasion.