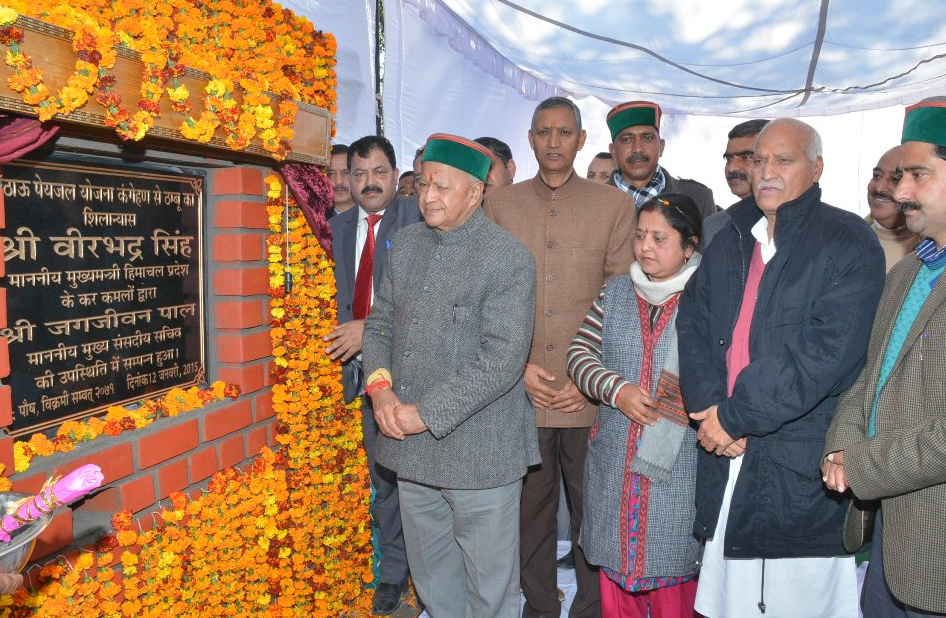 Chief Minister Virbhadra Singh today laid foundation stone of Kangehan-Thambu lift drinking water supply scheme in Sulah constituency of Kangra district.
This ambitious drinking water supply scheme would benefit over 80 thousand persons of 202 habitations of Sulah and Jaisinghpur constituencies and is estimated to be constructed at a cost of Rs.3755.45 lakh.
The Chief Minister also laid foundation stones of the building of the police post and residential complex at Thural to be constructed at cost of Rs.2.63 crores and a bridge over Neugal Khad on Thural-Chalah Road to be constructed at a cost of Rs.945 lakhs.
The Chief Minister announced to upgrade Balota health sub-center in Sulah constituency to primary health center. He also upgraded Punnar and Saloh high schools to Govt. Senior Secondary Schools besides upgrading Govt Middle Schools Arla and Bhatoo to Govt High Schools.
Virbhadra Singh also assured that government would provide budget for the construction of Chandad-Dhatti and Bhaddal Devi-Saloh roads. The government would also provide financial assistance for construction of over bridges at Paror and Thakurdwara over railway lines in Sulah constituency which would be constructed by the railway authorities.
Urban Development Minister Sudhir Sharma, CPS Jagjivan Pal, M.L.A's Sanjay Rattan and Pawan Kajal and other prominent persons were present on the occasion.