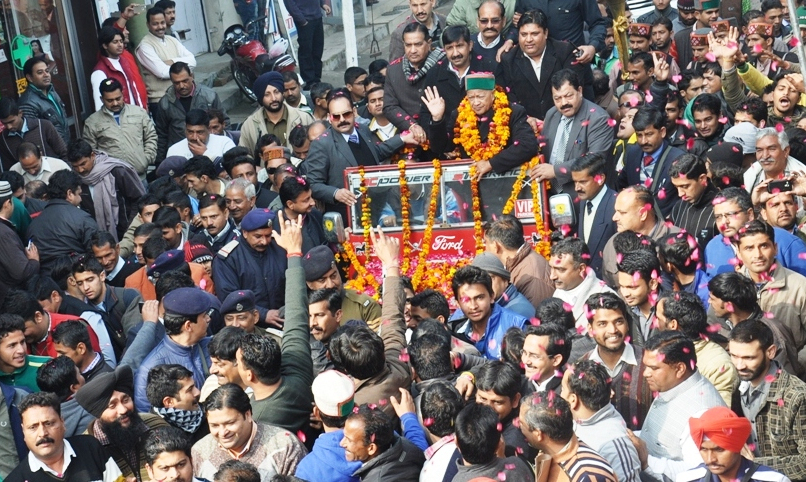 Ghanari: Chief Minister Virbhadra Singh announced opening of Tehsil at Ghanari in Gagret assembly constituency of Una district.
He also announced to upgrade Government High Schools Sanghnai, Kalruhi, Nakdoh (Ramnagar) and Gagret to Government Senior Secondary Schools.
Chief Minister said that Swan River in Gagret area would be channelized. He said that Swan River which was said to be the river of sorrow in Una district was being channelized by spending Rs. 922 crore which was one of the biggest channelization projects of the country, out of which Rs. 400 crore were being spent in Gagret constituency. He said that over 15000 hectares of land would be reclaimed under this project and would be utilized for horticulture and agriculture purposes.
The Chief minister also dedicated Banehra bridge on Gondpur Banehra to Nangal Jarrialan road constructed at a cost of Rs. 2.11 crore.
While talking to the development of Una district, Chief Minister said that State Government had made numerous milestones in every sphere of development and today Una district had emerged as an industrial hub of the State.
Later, the Chief Minister also listened the public grievances at Dhaulatpur Chowk, Gagret and Bharwain and directed the concerned authorities to for early disposal.
Industries Minister Mukesh Agnihotri said that State was making rapid strides in every field of development under the leadership of Chief Minister Virbhadra Singh.
Local MLA Rakesh Kalia thanked the Chief Minister in his home segment for announcing Tehsil and upgrading various schools in the area. He attributed the development of Gagret area go to Virbhadra Singh.
Deputy Commissioner Abhishek Jain, S.P. Anupam Sharma, senior officers of the State Government and other prominent persons were also present on the occasion.