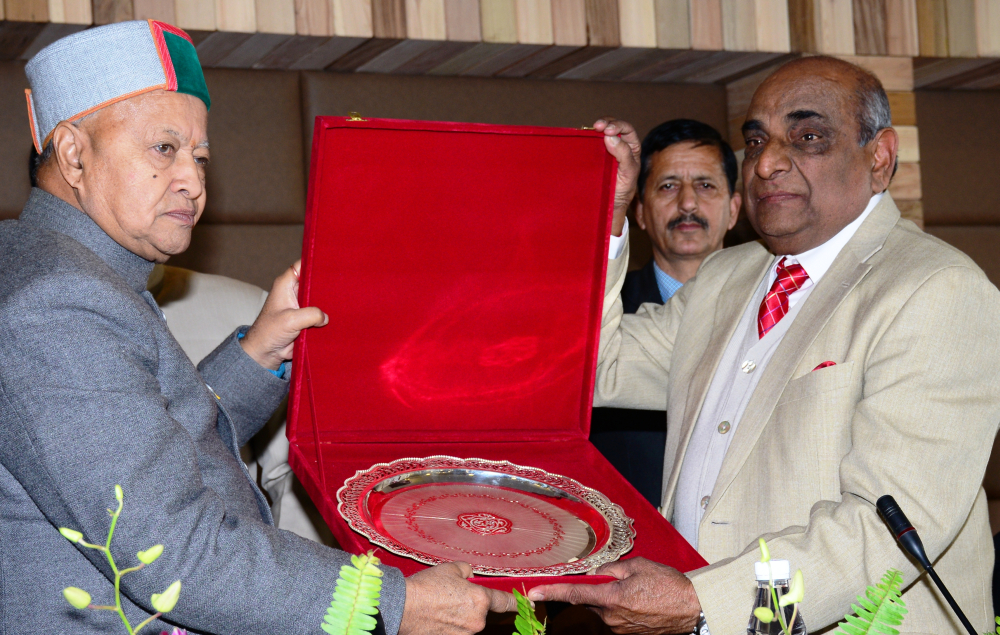 Chief Minister Virbhadra Singh inaugurated the 'Hotel Terrace' on the Timber Trail Height's at Banasar in Solan district today.
The Chief Minister lauded the efforts of the Chairman of Timber Trail R.K Garg for creating special attractions for tourists and visitors in the lap of nature having green and clean environs. He said that there was a need to open and create tourism infrastructural facilities in the rural areas of the State.
Virbhadra Singh said that the capitalists need to focus attention towards rural areas of the State which were full of virgin beauty. For expansion of tourism in the State, there was need for exploring the unexplored areas as Himachal had been endowed with salubrious climate and mesmerising natural beauty which was yet to be exploited to its full potential, added the Chief Minister.
He said that the road infrastructure was being improved in the State so that visitors could be facilitated to reach the far-flung areas. The tourism industry was contributing considerably towards the economy of the State. In order to encourage private entrepreneurs for setting up of tourism units, the State Government was providing incentive of 15 per cent Capital Investment Subsidy on tourism units subject to maximum Rs. 50 lakh and the incentive scheme would be effective till 31st March, 2017.
Virbhadra Singh said that adventure, religious, heritage, rural and eco-tourism was some of the areas which had been given special attention in tourism development. The State Government had submitted various Tourist Circuits/ Destinations projects worth Rs. 2600 lakh to Government of India for seeking financial assistance for developing tourist infrastructure in the State.
He said that for the promotion and development of tourism, the State has framed Sustainable Tourism Development Policy 2013 with a view to establish Himachal as a global brand in domestic and international market and to ensure sustainable tourism primarily to benefit host communities, support natural and cultural heritage preservation, create an enabling environment for investment in the tourism sector.
The Chief Minister said the State would also focus on diversification of tourism to the other potential areas where good infrastructure would be created. This would not only reduce pressure in the existing tourist destinations, but it would also offer new areas to the tourists.
Earlier, the Chairman-cum-Managing Director of the Timber Trail Hotel R.K. Garg welcomed and honoured the Chief Minster and other distinguished guests.
Industries Minister Mukesh Agnihotri, Excise and Taxation Minister Prakash Chaudhary, Social Justice and Empowerment Minister, Col. (Dr.) Dhani Ram Shandil, Chairman Pollution Control Board, Kuldeep Singh Pathania, Vice-Chairman, Planning Board, G.R Musafir, Vice Chairman, Other Construction Workers Welfare Board Hardeep Singh Bawa, DC Solan Madan Chauhan, SP Ramesh Chhajata, MD Tourism Mohan Chauhan were also present on the occasion amongst other dignitaries.