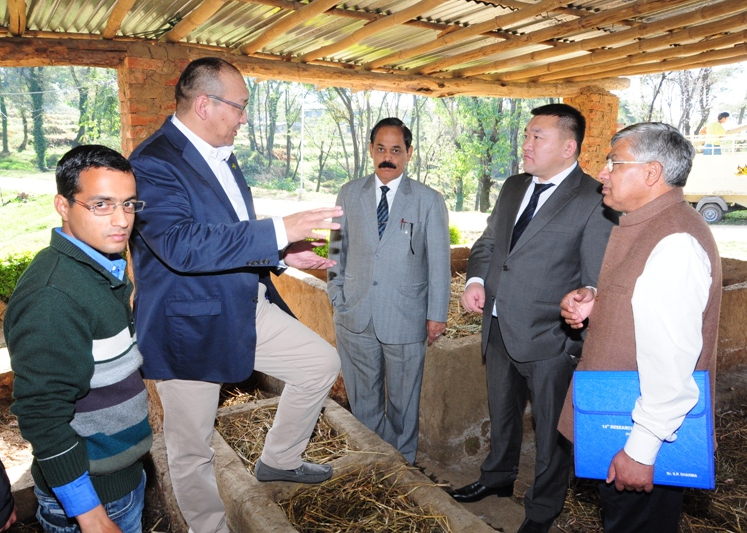 Palampur: A high level delegation of Mongolian University of Life Sciences (MULS) reached CSK H.P. Agriculture University (CSKHPAU) and held a meeting with the University administration, today.
Dr. T. Kheruuga, President of the university and Dr. Sukhtulg, Chief Administrator for International Affairs, said they were impressed to see the excellent infrastructure and achievements of the CSKHPAU.
Dr. Kherugga said since altitude and weather of some of the areas of Himachal Pradesh was similar to his country so there was a strong possibility of cooperation and collaboration in many areas for the common good of the economy of our countries.
He said that it was interesting to know that Agriculture University had technology to advanced sowing time and delay harvesting time of some of the crops which could be of immense use to his country. He said that his university was keen to send students for higher studies or develop two years collaborative programmes for post graduate students. As the organization set-up of Agriculture University was similar to MULS so entering into collaboration was likely to be very smooth.
Earlier, Dr. K.K. Katoch, Vice-Chancellor, welcomed the delegation and informed about the strengths of his university in the areas of teaching, research and extension education. He specifically informed about the research work in Spiti and Kinnaur areas which were similar in climate to Mongolia.
Dr. Katoch also underlined the importance of water for crops in such areas and informed about the water conservation technologies developed by his university. The university has done work in the areas of rainfed farming and conservation agriculture which could be of much use to landlocked Mongolia.
Dr. S.P. Sharma, Director of Research, made an elaborated presentation to the delegation about teaching, research and extension education at CSKHPAU.
Rattan Gautam, Registrar, Ranjit Singh, Comptroller, Dr. N.K. Pathania, Dean , COA, Dr. Sanjit Katoch, Dean, COVAS, Dr. Kamlesh Singh, Dean, COBS, Dr. S.R.Malhotra, Dean, COHS, Dr. S.S.Kanwar, SWO, Dr. P.K. Mehta, Librarian,, Dr. J. Shekhar, Dean PGS, Er. A.K. Chadha, EO also attended the high level meeting with MULS delegation.
The delegation will visit some of the research stations and farm science centers in districts of Kangra, Mandi and Kullu in the next two days and will have final discussions with the Vice-Chancellor on 21st November.