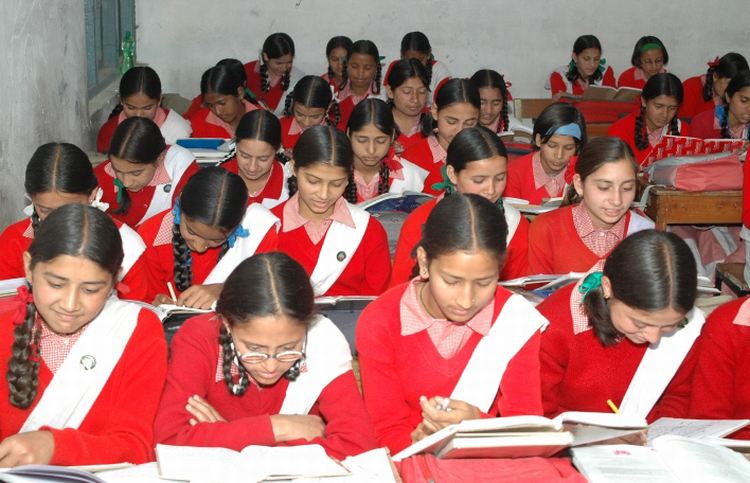 Taking into account the importance of elementary education, the Himachal Government has made concerted efforts for achieving quality education by giving top most priority to education sector. Himachal is one of the few states, which has achieved the targets of universalization of primary education and sincere efforts have been put to achieve target of universalization of elementary education.
Himachal Pradesh is amongst leading states in implementing the Sarv Shiksha Abhiyan (SSA) effectively. SSA was launched in the State as a programme to supplement the efforts of District Primary Education Programme (DPEP) and it is also an attempt to provide opportunity for improving human capabilities to all children, through provision of community-owned quality education in a mission mode.
It is a convergent programme targeting Primary and upper primary education with the main focus on providing basic quality education within a clear time frame.
The initiative of the State Government for improving quality education has been highly appreciated by the Government of India. The Assessment of 1st to 8th standards by introducing Large Scale Achievement Survey in 2013-14 has received appreciation from the Ministry of Human Resource Development. An independent agency SKOCH has awarded, "SKOCH Order of Merit"- India's best Governance Project-2014 for the assessment survey carried by SSA in Himachal Pradesh.
The efforts of the State Government have borne fruits and the Composite Educational Development Index for elementary education has significantly improved from 12th rank to 4th rank. This has been possible due to the sincere efforts of the State Government in ensuring opening of educational institutions in every nook and corner of the State and also allocating adequate funds for this vital sector.
During this financial year, Rs. 4,282 crore are being spent on education sector, which is highest in comparison to other sectors. During 2014-15, total outlay of 250 crore has been approved under SSA which is 16 percent higher than the plan approval of 2013-14.Through SSA, 426.18 crore have been spent on infrastructure development in government schools so far.
Himachal is pioneer State in developing the learning Indicators for class-1 to VIII and these learning indicators have been implemented in the State from the academic session 2014-15. Himachal is the first State, which started conducting large scale achievement surveys of all the students at elementary level. Learning status has been identified at school level and broadly at district and state level.
With a view to empower girls through appropriate inputs in the science, Technology and innovation girls studying in Kasturba Gandhi Balika Vidyalya (KGBV) and girls of Learning Leadership Foundation (LLF) pilot schools were supported and oriented towards research and innovation. Three students of Himachal Pradesh were able to reach the top level amongst 22,946 girls from 279 KGBVs/schools in the country. These girls participated in the felicitating ceremony organized on 7th November, 2014 at National Science Centre Museum, New Delhi.
State has developed the training calendar for effective implementation of different programmes under SSA. On the basis of meetings, workshops, feedback, baseline and monitoring reports, Training Need Assessment (TNA) has been done. Teacher training is now more practical as compared to earlier practices by ensuring school practice sessions during the training. To stop withdrawing teachers from schools, training at schools level started under Rashtriya Madhyamik Shiksha Abhiyan (RMSA). Under the project, lessons are being delivered by using technology.
In order to implement learning standards and streamline the implementation of Continuous & Comprehensive Evaluation (CCE) in schools Assessment Sheets have been developed and subject, class and level wise. Text books for class 1 to V have been revised. To promote art education, Art Integrated Learning Programme has been initiated in collaboration with Durhan Elementary Athletic Association (DEAA), National Council of Education Research & Training (NCERT), New Delhi and British Council of India, New Delhi.
Schools are being covered for use of Information & Communication Technoloty (ICT) in reading of Science and mathematics in partnership with Pratham. All the teachers have been trained to use ICT in teaching of science and mathematics. Total 100 schools have been covered by 'Pratham' to enhance learning in the subject of science and mathematics at upper primary level.
Anganwari Kendras are being co-located in the premises of existing primary schools to increase enrolment in the first grade of primary schools. Some primary schools have started pre-primary classes.