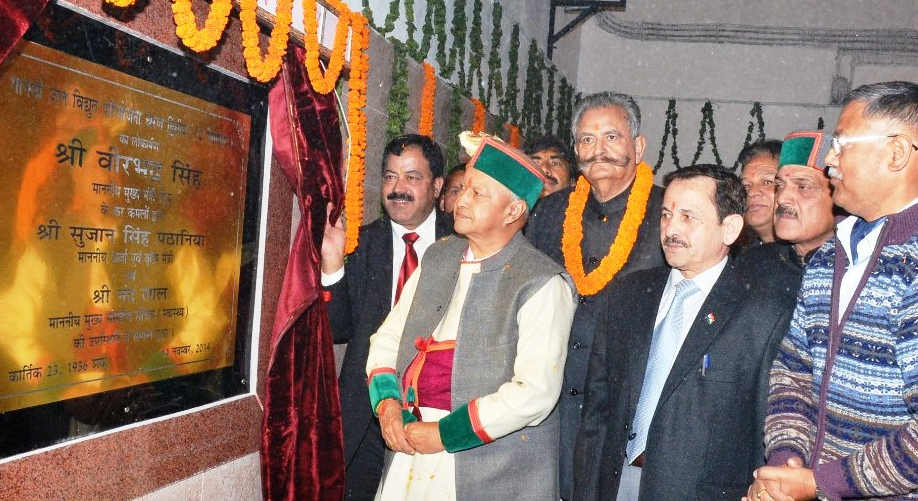 Chief Minister Virbhadra Singh today dedicated Rs 173 crore Ghanvi Stage II (10 MW) Hydel Electric Power (HEP) Project to the people at Ghanvi in Pandra Beesh area of Rampur Tehsil which would benefit the State by generating revenue of rupees twelve crore annually and 56 million unit of power. The power so produced would be routed through the Northern Grid.
He also visited the dam site, the intake reservoir, constructed by M/S Hydro Construction Power Company from where the water would be released in the power house of Ghanvi Stage-II project.
While addressing gathering at Ghanvi, Chief Minister said Pandra Beesh area was the one of the area where all the development was due to the successive Congress Governments. The State Government had interlinked all the interiors area of the Pandra Beesh area with roads. He said that the need was to preserve our environs and the natural wealth of the State.
Earlier, the Chief Minister inaugurated Government Senior School Building at Jhakri constructed at a cost of Rs 70 Lakh by Sutlej Jal Vidyut Nigam Foundation. He also laid foundation stone of the 22 KV interlinking Sub Station which will provide feeder wise power supply to Ghanvi and would benefit people of eight panchayats having population of around 36 thousand and performed foundation stone of sewerage line at Jhakri to be constructed at a cost of Rs. 10 crore.
MPP and Power Minister Sujan Singh Pathania, Chief Parliamentary Secretary Nand Lal, Principal Secretary MPP and Power and Chairman HPSEB Ltd SKBS Negi, MD HPSEB, PC Negi, Deputy Commissioner Shimla, Dinesh Malhotra, SP DW Negi, Pradhans and among other present on the occasion.