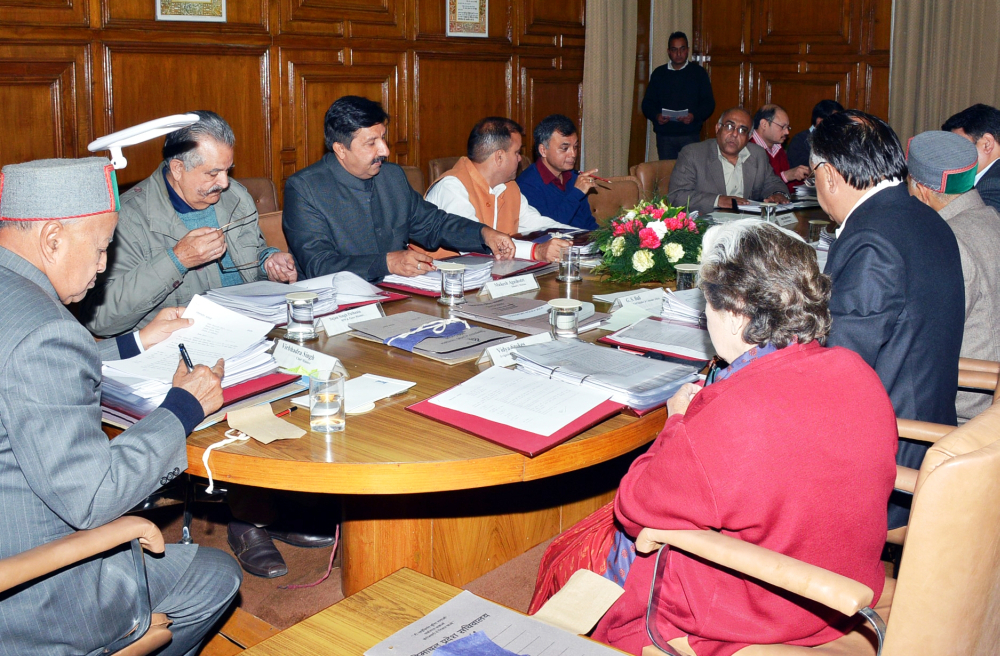 The Himachal Pradesh Cabinet, in its meeting presided by Chief Minister Virbhadra Singh today, gave approval to fill 220 posts of Forest Guards in Forest department on contract basis.
It also gave nod to fill 16 posts of Sub-Inspectors exclusively for women in State Police Department and filling up of four posts of Inspector Grade-I in Food, Civil Supplies and Consumer Affairs department through direct recruitment on contract basis.
Cabinet decided to create 50 posts of Junior Coaches in the department of Youth Services and Sports for providing training to the youth in different disciplines on contract basis. Besides, it gave approval for filling up of one post of Divisional Fire Officer in Fire Service Department by direct recruitment on contract basis.
The Cabinet granted approval for creating four posts of various categories viz one post of Medical Superintendent, two of Senior Ayurveda Chikitsak and one post of Ward Sister on regular basis for 50 bedded district hospital at Hamirpur in Ayurveda department and filling thereof by promotion as per existing R&P Rules.
It also granted approval for opening Sub-Divisional Police Officer's office at Haroli in district Una along with seven posts. The Cabinet also gave approval for opening of Fire Post at Larji in Banjar of Kullu district.
It also accorded approval for filling up of eight posts of Block Development Officers through direct recruitment and also decided to grant of higher pay structure plus grade pay to the Executive Officers and Secretaries of Municipal Councils/Nagar Panchayats prospectively.
The Cabinet also accorded approval to grant pay scale to the Junior Accountants of the Panchayat Samitis under Panchayati Raj Department after three years of regular services prospectively.
The Cabinet also decided to formulate new recruitment and promotion rules for Sanskrit Lecturers in Ayurveda department.
It also accorded sanction for filling up of 40 posts of clerk-cum-data entry operators on outsource basis from NIELIT until regular/contract staff is appointed in the department. It also approved filling up two posts of Assistant Research Officers in Planning department.
The Cabinet decided to strengthen the Geological wing of the Industries Department by creating and filling up two posts of Mining Officers on contract basis by direct recruitment, creating 16 posts of Assistant Mining Inspectors (Non-Gazzetted) by filling up six posts by direct recruitment on contract basis and ten posts by promotion. Besides, creating 25 posts of Mining Guards (Class-IV) wherein 15 posts would be filled on contract basis through direct recruitment and 10 posts by transfer from the cadre of Peons/Chowkidars as per R&P Rules. It also decided for creating and filling up one post of Law Officer (Class-II, Gazetted) in order to exercise effective control and vigil on illegal mining activities and regulation of mines and minerals.
It accorded sanction to create supernumerary posts of Assistant Public Relations officer and District Public Relations Officer/Information Officer in the Information & Public Relations Department. It also decided to revise the pay scales of Actors and Artistes of the Information & Public Relations department.
The Cabinet decided to fill up one post of Civil Judge (Junior Division) in H.P Subordinate Judiciary.
It gave approval for filling five posts of Statistical Assistants and four posts of investigators in department of Economics and Statistics on contract basis through outsourcing.