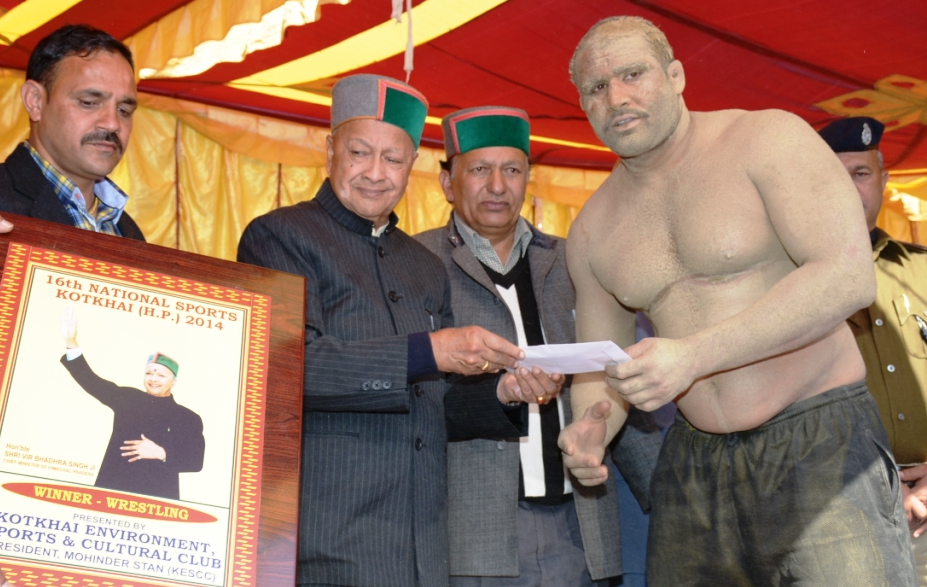 Himachal Pradesh Chief Minister Virbhadra Singh has announced to construct Volleyball grounds in every Panchayat of the state.
CM said it while speaking at the concluding ceremony of three days Wrestling Championship at Kotkhai in district Shimla, in which many reputed wrestlers from Himachal and neighbouring States of Punjab and Haryana participated. He said that as Volleyball requires less paraphernalia and small grounds, every Panchayat of the State would be provided play grounds for promoting volleyball.
He claimed that the State Government was endeavoured to promote the rural games and create better sports infrastructure in rural and far flung areas of the State so that the budding players could get an opportunity to perform better at State, National and International Sports events. Virbhadra Singh also lauded the performances of Himachali players at National and International level.
Chief Minister also reiterated his commitment for development of the Kothkhai region and directed officers concerned to abide by the instructions, keeping in view the welfare of the people.
Virbhadra Singh also cautioned the Chadha and Chadha Company, executing Theog –Rohru –Hatkoti road, to complete the work within stipulated time otherwise, their tenders would be cancelled.
He also directed the PWD authorities to take up metalling work of road from Ghasi Gaon to Ghasi Gaon Kainchi linking Kiari road.
Yashwant Chhajta, Chairman, HP Housing Board and many other prominent personalities of the region were also present on the occasion amongst others.