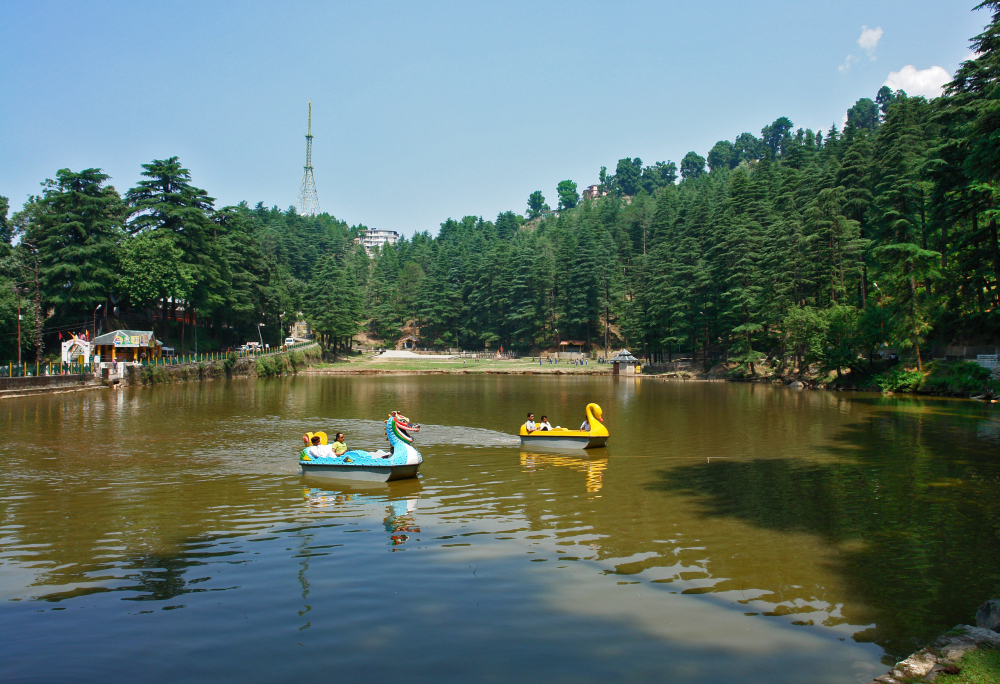 Nestled in the western Himalayan region, the State of Himachal Pradesh is proud to be part of the Himalayas. Himachal has abundant natural beauty in the form of snow clad peaks, low rolling hills, valleys, rivers & lakes and has tremendous potential for various kinds of tourism activities. Tourism is one of the main sources of income and employment generation in the State and contributes 9.75 per cent to the State Gross Domestic Product (SGDP).
Keeping in view this fact, the State Government has accorded top priority for the development of tourism in the State. This is evident from the soaring number of tourists flocking to the State every year. Adventure tourism, religious tourism, heritage tourism, rural tourism or eco- tourism are some of the areas which has got special attention in tourism development. The State Government has submitted various Tourist Circuits/ Destinations projects worth Rs. 2600 lakh to Government of India for seeking financial assistance for developing tourist infrastructure in the State.
Tourism is being given a veritable facelift with the introduction of several schemes by the State Government. For the promotion and development of tourism, the State has framed Sustainable Tourism Development Policy 2013. The objective of the Policy is to establish Himachal Pradesh as a global brand in domestic and international market and to ensure sustainable tourism primarily to benefit host communities, support natural and cultural heritage preservation, create an enabling environment for investment in the tourism sector. The State will also focus on diversification of tourism to the other potential areas where good infrastructure will be created. This will not only reduce pressure in the existing tourist destinations, it will also offer new areas to the tourists.
For further strengthening the tourism infrastructure in the State, Asian Development Bank (ADB) is providing a financial assistance worth 95 million American dollars under infrastructure development investment programme for tourism (IDIPT) and in Tranche-I the projects worth 33 million US Dollar were approved by ADB. Under Tranch-1, 20 projects for infrastructure development are being undertaken by the Department of Tourism & Civil Aviation in four districts namely Shimla, Kangra, Una and Bilaspur. The major projects of development under ADB assistance are restoration of Town Hall and beautification of Mall Road at Shimla, Development of Tourist Reception Centre & parking at Chintpurni and development of Jetty, camping sites, tracks and bird watching towers in Pong Dam area. Process for implementation of these mega projects is underway.
There has been a tremendous flow of tourists to the State in last few years. In the year 2013 (January to December) the state was visited by 1, 51, 29,835 tourists including 4, 14,249 foreign tourists while in the year 2012, the state was visited by 1.61 crores tourists, out of which about 5 lakhs were foreign tourists. This year till June 2014 the State was visited by approx. 83 lakh tourist including about 1, 93,387international tourists. Presently, the State has 2377 registered hotels/guest house with bed capacity of about 61,236. Himachal was earlier known only for summer season. With the efforts being made to break the seasonal factor and tourism products have been diversified to attract the tourists in other seasons also. Now Himachal is known as "A Destination for All Seasons and All Reasons."
The Government has given the status of Industry to the tourism and the entrepreneurs setting up tourism ventures are entitled to same incentives as are available to the Industry.
In order to encourage private entrepreneurs for setting up of tourism units, the State Government is providing incentive of 15 per cent Capital Investment Subsidy on Tourism Units subject to maximum Rs. 50 lakhs. The incentive scheme is effective till 31st March, 2017. New, Hotel units being set up in Tribal areas are exempt from paying luxury tax for a period of 10 years with effect from 1st April, 2012. Similar incentives have been provided to the units being set up in backward Panchayats with effect from 1st April, 2013.
With a view to provide tourists a glimpse of the rich heritage and culture of the State in natural environs, rural tourism and Home Stay Scheme is promoting in a big way. A rural household with minimum one room and a maximum of three rooms can register under the scheme. The registered Home Stay units in the rural areas are exempt from paying VAT, Luxury Tax etc. The water and electricity consumption charges are at domestic rates. Presently, in the State there are about 550 registered Home Stay units. The scheme has been instrumental in generating employment opportunities to the rural population.
State has numerous opportunities for setting up tourism projects in the area of tourist Resorts, Ropeways, Golf courses, amusement parks etc. The Government has created a land bank for setting up of tourism units under PPP mode in the State and the sites are available at Suketi (Sirmaur), Baddi (Solan), Bilaspur, Jhatingari (Mandi), 15 Mile Baragaon near Manali, and at Shoja (Kullu).
The State Government has submitted Rs. 500 lakh project for the Integrated Development of Una-Nadaun as a Tourist Destination to Government of India for seeking financial assistance for developing tourist infrastructure in the State. The other projects including Rs. 800 lakh Integrated Development of Buddhist Destinations, Rs. 800 lakh Integrated Development of Shimla-Suburbs and Rs. 500 lakh Integrated Development of Tourist Transit Zones in the State to Government of India for seeking financial assistance for developing tourist infrastructure in the State.
In order to promote the alternative mode of transport for the tourists, the sites of Chamunda ji-Adi Himani Chamunda, Dharamshala-Mcleodganj/Triund and Neugal-Palampur in district Kangra, Shahtalai-Deotsidh in district Hamirpur, Toba –Sri Naina Devi ji in district Bilaspur and Tutikandi-Lift-Mall Road Shimla in district Shimla have been identified for setting up of passenger Ropeways in the State on Public Private Partnership (PPP) mode. In addition, it has also decided to explore the possibility of setting up Ropeway at Sarahan-Bashal in district Shimla & Kinnaur on public private partnership (PPP).
Himachal enjoys comparative advantage as it has stable polity, accessible administration, clean environment, cordial industrial relations, ease to do business and abundant cheap power. Above all, the cool and clean environment of the State is congenial for the growth of tourism industry. Himachal is an important brand by itself and is well recognized tourist destination.