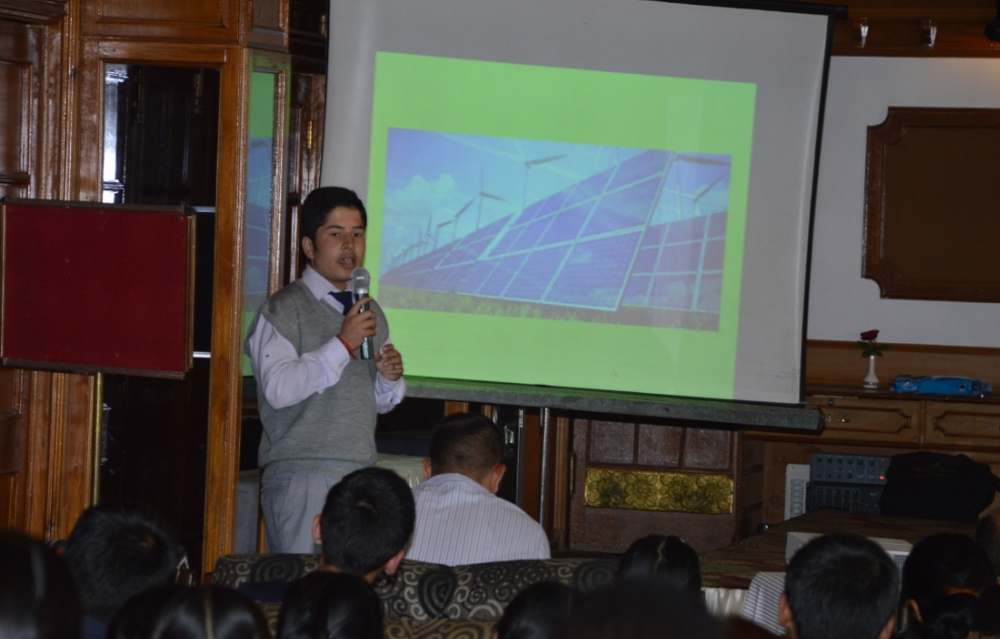 Aiming to disseminate the information on renewable sources of energy and to make students aware of energy crisis, HIMURJA in collaboration with WWF-India observed Rajeev Gandhi Akshay Urja Divas 2014 at Hotel Holiday Home here today
Govt. Senior Secondary School Portmore, Dhalli, Rajhana, Chhota Shimla, Lakkar Bazaar, Phagli, Dayanand Public School, JCB Public School, SD Senior Sec School, DAV New Shimla, New Totu, Auckland House School, Central School for Tibetan, Monal Public School, Blue Public School, Govt High School Tuti Kandi, Khalini and Chaura Maidan of Shimla town participated in the programme.
Er. Bhanu Partap Singh (C.E.O HIMURJA) emphasized on the energy conservation. He asserted that energy conservation is the need of the hour and various alternate energy sources should be used. In his inaugural speech he emphasized the role of schools in disseminating the message of energy conservation. He also explained various energy sources and their importance in our life. Arti Gupta Project Coordinator WWF-India also addressed the participants.
Various competitions including Slogan writing, Poster making competitions and paper presentation were organised at the event. With the help of power point presentation the students expressed their views on energy conservation, energy crisis, renewable sources of energy, energy requirement and its demand.
The judges for various competitions were Ravi Sharma from State council of Science Technology Rohit Sharma (Productivity Coach), Satpal Dhiman (Wild Life Wing HP Forest Deptt.) and Shailender Chauhan Project Officer WWF-India.
The winner students will be awarded on 1st October. An awareness rally will also be flagged of by Chief Minister from Oak Over on 1st October.