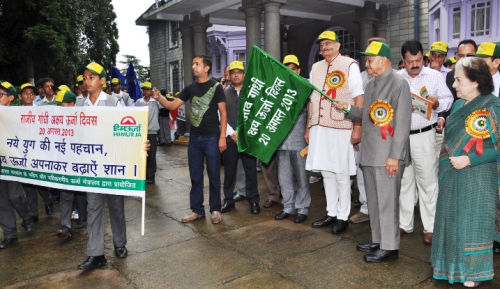 Chief Minister Virbhadra Singh today flagged-off school children rally from his official residence 'Oak Over' organized to celebrate 'Rajiv Gandhi Akshay Urja Divas' on the occasion of 69th birth anniversary of the former Prime Minister Shri Rajiv Gandhi.
Speaking on the occasion, Virbhadra Singh said that birth anniversary of late Rajiv Gandhi was being celebrated as 'Akshay Urja Divas' throughout the country. He said that this day had a special significance as common people were educated about renewable energy resources through different mediums besides encouraging them to ensure their maximum use.
He said that HIMURJA with the support of Ministry of New and Renewable Energy Government of India, organizes various functions to create awareness about use of eco-friendly renewal energy which had no recurring fuel cost. He said the development and more use of renewal energy sources could lead to sustainable and environment friendly energy security in the State.
Chief Minister said that State government was endeavouring to preserve the depleting conventional resources to meet the increasing demand of power. The State government soon would come out with a new Power Policy with a view to harness the solar energy. Besides, possibilities of more hydro power and other non-conventional power resources were also being explored in the State.
Virbhadra Singh said that State Government had reserved the small hydro power projects up to 2 MW capacity exclusively for the Himachalis whereas preference was also being given to them in the projects up to 5 MW capacity.
He gave a clarion call to the younger generation to adopt energy saver measures at their homes so that energy thus preserved could be utilized in the development of the State and the country. He said that youth should take lead in creating awareness amongst the masses about the renewable resources, which were environment friendly and sources of cheap power.
Chief Minister also released a publication titled "Urja Sandesh" brought out by HIMURJA.
MPP & Power Minister Sujan Singh Pathania presented solar lantern and solar cooker on the occasion.
Speaker Vidhan Sabha Brij Bihari Lal Butail, Irrigation and Public Health Minister Vidya Stokes, Deputy Mayor MC Shimla Tikender Panwar, Chairman HP State Cooperative Bank Harsh Mahajan, Vice Chairman HP Forest Corporation Kewal Singh Pathania, Chairman State Haj Committee Dildar Ali Bhat, Advisor to Chief Minister T.G. Negi, DGP Sanjay Kumar, Principal Secretary MPP& Power S.K.B.S. Negi, CEO HIMURJA Kanwar Bhanu Pratap Singh, State Director World Wild Fund (WWF) Vandana Thapliyal, senior officers, prominent persons, Teachers and students of various schools of Shimla were present on the occasion.