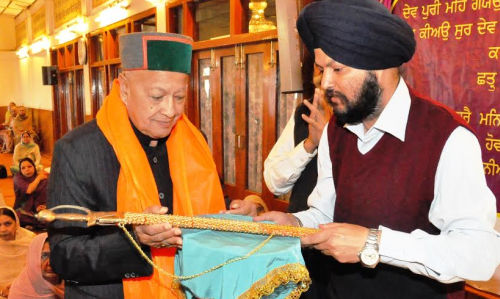 Chief Minister Virbhadra Singh visited the main Gurudwara, at Cart Road, Shimla to pay his homage to Pancham Patshah Sri Guru Arjan Dev Ji on his martyrdom day here today and participated in the 'Shabad Kirtan' organized on the occasion.
Chief Minister said that Sri Guru Arjan Dev Ji guided all the humans to stand for truth. He said that he sacrificed his life for the cause of the humanity. Sri Guru Arjan Dev Ji taught the people the values of hard work and prayer. He followed what he preached. He firmly believed in the teachings of saints and toiled throughout his life to firmly establish the right path.
Chief Minister called upon the people to follow the noble teachings of Sri Gurj Arjan Dev Ji, who sacrificed his life to uphold the rich legacy of humanism, secularism and universal brotherhood. He said that Guruji's supreme and unparalleled selfless sacrifice would always remain a source of inspiration for all. He said that the real homage to the great Guru would be to follow his ideals to safeguard the interests of oppressed and disadvantaged sections of the society.
Earlier, Chief Minister was welcomed by the President of the Gurudwara Singh Sabha, Sardar Jasvinder Singh, who also presented a 'siropa' to him and his wife Pratibha Singh.
Sardar Bhupinder Singh General Secretary, Gurudwara Singh Sabha urged the Chief Minister to regularize Punjabi teachers appointed in the State. Blood Donation camp was also organized on the occasion.
Office bearers of the Gurudwara Singh Sabha, senior officers of the State Government and other prominent person of the town were also present on the occasion.