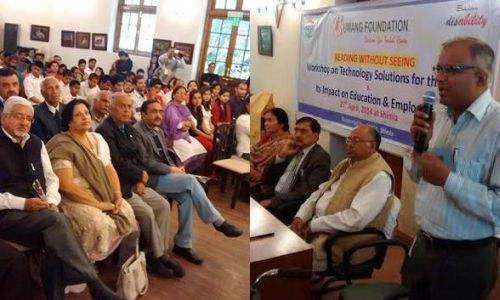 Persons with visual disabilities are the valuable part of our diverse society and their inclusion in every field is the need of the hour. Himachal Pradesh is among those States where myths, conservative mindset and lack of awareness are the main hurdles before the blind persons. Umang Foundation, a public welfare trust, is constantly working for the protection of rights of all persons with disabilities including blind persons in this hill State with a firm belief that only education and use of information technology can bring a positive change in the life of blind persons.
In its mission to empower the blind persons, Umang Foundation organized a workshop on Information Technology for Blind Persons in Shimla recently and motivated six bright students with blindness from remote to join a two month Certificate Course in Computer Application from National Association for the Blind, New Delhi that has began today. According to Ajai Srivastava, chairman of Umang Foundation, his organization is supporting a number of blind, deaf and other disabled students, particularly girls, in their educational empowerment and providing them with latest electronic gadgets, counselling and moral support.
The workshop – "Reading without Seeing", based on the use of latest technology was conducted at YMCA Shimla in association with Daisy Forum of India and Saksham Trust, in which as many as 125 persons participated, including 87 blind students and youth. It was the biggest programme ever programme organized for blind persons in the State. Prashant Ranjan Verma, national award winner for his outstanding contribution in the field of disability, an expert of IT and himself a blind person from New Delhi, was the main resource person in the workshop. He, along with Ajay Sharma, the other resource person, made some presentations to explain about the latest innovations and developments in the field for blind persons. They also addressed the questions raised by the participants.
Professor (Mrs.) Pankaj K. Singh from the department of English, H.P. University inaugurated the workshop and Ajit Butail, chairman of Tourism Cell, H.P. Zone, C.I.I. chaired the inaugural session.
They lauded the efforts being made by Umang Foundation in the educational empowerment of disabled children in Himachal Pradesh. V.K. Goel, DGM of Punjab National Bank, was the guest of honour. In total 15 meritorious blind students were given Angel Players, an assistive educational device, and talking watches by the Foundation.
Ajai Srivastava said that the Foundation does not take funding from the government or any donor agency under any scheme and mobilizes its resources from within the society. He said that the Foundation has sponsored six meritorious blind students from poor families to pursue a two month Certificate Course in Computer Application from N.A.B. in New Delhi, which is one of the premier institutions for the blind. Kusum Lata, Muskan, Sangeeta, Ajay Kumar, Suraj and Vinod Sharma have appeared in class 12th examinations and they will complete their computer course before joining college.