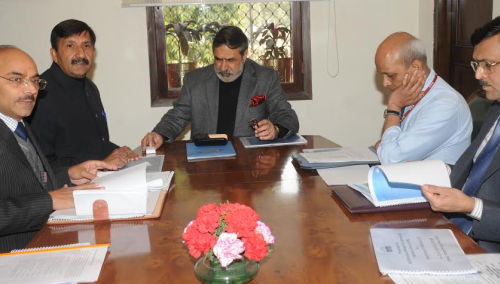 New Delhi: A high level delegation led by Industry Minister Mukesh Agnihotri called on Union Commerce and Industry Minister Anand Sharma at New Delhi today to discuss various ongoing and proposed new industrial projects in the State.
It was decided in the meeting that Union Ministry of Commerce and Industry will provide central assistance amounting to Rs 200 crore for industrial projects under various schemes of the Central Government.
Mukesh Agnihotri disclosed that two new state of the art industrial townships have been approved for the State under the modified industrial infrastructure upgradation scheme at Kandrori in Kangra district and Pandoga in Una district with an estimated cost of Rs. 218 crores. The Central assistance would be to the tune of Rs. 100 crores to be released during the current financial year.
He said that the Union Commerce Ministry also approved industrial infrastructure projects amounting to Rs 72.17 crore under ASIDE scheme in the State for setting up of export ware house project at Baddi, composite pharma testing Lab at export cluster Baddi, up-gradation of power grid in export promotion park at Baddi and setting up of common effluent treatment plant at Kala Amb in Sirmour District.
Agnihotri said the Union Ministry has also approved the setting up of 10,000 MT capacity new apple juice concentrate plant by HPMC at Gumma in District Shimla with estimated cost of Rs 15 crore and upgradation of the existing apple juice concentrate plant of HPMC at Parwanoo with an estimated cost of Rs 12 crore under which the crushing capacity of the plant would be enhanced from 10,000 MT to 20,000 MT annually. By setting up these plants, it would be possible to procure almost the entire quantity of apples produced in the State by the Govt. under the MIS scheme every year. It was also decided to consider other projects submitted by the HPMC for setting up of CA stores, packing houses and vegetable processing plants in the Districts of Shimla, Chamba and Hamirpur. Setting up of similar plants in Nagrota Bagwan in District Kangra and Una District were also principally agreed.
Industry Minister said APEDA will provide financial assistance for setting up of organic product certification agency in the state. The APEDA shall also provide 50% of the registration charges to the HPMC for getting its products registered in different countries for export purposes. Considering the potential of setting up of wineries in the State due to its favourable climate, it has been decided that the Commerce Ministry would also assist the State Govt. in exploring possibilities of setting up of wineries in the State along-with wine manufacturing units in potential areas of Hamirpur, Kullu, Lahaul Spiti Districts of the State.
He informed the Union Ministry that the State Govt. has decided to lease out land measuring 10 acre to Spice Board for the setting up of Spice Park at Nadaun and foundation stone of Rs. 17 crore Spice Park will be laid in Hamirpur district during February next. Union Govt also agreed in-principle to finance Rs. 10 crore cost fruit and vegetable processing plant at Nagrota-Bagwan in Kangra district for which the HPMC will submit Detailed Project Report in time bound manner.
He said the union ministry has also agreed to provide one time relaxation in respect of pre-registration of tourism elated projects for availing central investment subsidy. The state government will submit comprehensive proposal in this regard soon .Union Commerce Ministry has also agreed to release Rs. 25 crores for meeting out the pending liabilities under the central investment subsidy and Rs. 36.83 crores under Central Transport Subsidy.
Union commerce ministry has also approved Rs. 561.76 lakh cost special project for tea farm mechanization and development for Kangra district of the State. A sum of Rs 1.2 crore also has been sanctioned for setting up Kangra tea museum at Palampur. The central govt will also assist the state government for conducting survey for identification of suitable coffee growing areas in the state.
He said that the State Govt. proposal for extension of central investment subsidy was under active consideration of the central govt for which positive decision was expected very shortly.
Agnihotri said it was also decided to carry out a diagnostic study for cultivation and processing of grapes in different parts of the state for production of international standard wine for export purposes and offered financial and technological assistance in this regard. It was also approved that regional centre of Indian Institute of Foreign Trade would start working from April, 2014.
R.D.Dhiman, Principal Secretary, Industry, Rajender Singh Director of Industries, J. C Sharma Managing Director, HPMC, Tilak Raj Sharma and other senior officers of the industries department also participated in the meeting.