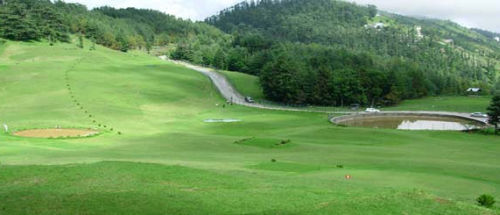 Naldehra is a beautiful tourist spot on the outskirts of Shimla, capital city of Himachal Pradesh.
About 2044 meters above sea level, the small town in the midst of nature is about 22 kms from Shimla. This enchanting place has one of the oldest golf courses in India, which was built in the early 1900s under the supervision of Lord Curzon, the then Viceroy of India. Lord Curzon was so fascinated with the place that he named his third daughter Alexandra Naldehra.
The golf course was a 9-hole golf course initially, but now it has been expanded to a par 68, 18-hole course with 16 greens and 18 tees.
This paradise in the Himalayas, Naldhera, was named after the main attraction of the place, Mahunag temple which is dedicated to the Serpant God. Naldehra literally means the Abode of the King of Snakes. The place is ideal for long walks and horse riding in the thick deodar forest which offers fresh air and peaceful environment.
Some of other attractions nearby include hot sulphur springs of Tattapani. About 65 kilometers from Naldhera, the hot water is said to have therapeutic properties. One can also visit the scenic village of Chabba and Shaily mata temple in close vicinity.