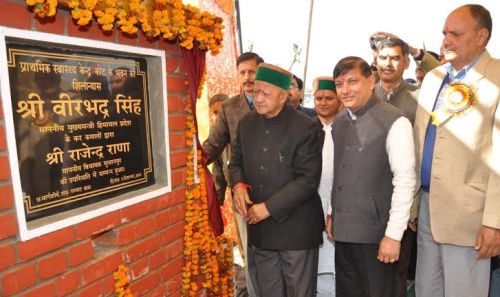 Chief Minister Virbhadra Singh today inaugurated and performed foundation stone laying ceremonies of various developmental projects worth Rs. 3.32 crore during his one day visit to Hamirpur district.
Chief Minister laid the foundation stone of Government High School Chamyana building to be constructed at a cost of Rs.42.86 lakh and Science Block of Government Senior Secondary School, Patlandhar to be constructed at cost of Rs.78.70 lakh. He also inaugurated Science Block building of Government Senior Secondary School, Kot constructed at a cost of Rs.85 lakh in Hamirpur district.
Virbhadra Singh also laid foundation stone of Primary Health Centre, Kot to be constructed at Rs. 63 lakh and residential complex of Primary Health Centre, Tauni Devi to be constructed at a cost of Rs. 62 lakh.
Addressing public at Government Senior Secondary School Tauni Devi, Chief Minister said that development of entire State was his priority and particularly Hamirpur district was being given added attention. He said that financial constraints would not be a problem for development and pace of developmental works would be accelerated. He said that first Chief Minister of Himachal Pradesh Dr. Y.S. Parmar gave status of district to Hamirpur as earlier it was a tehsil of district Kangra. He said that more than 90 percent schools in Hamirpur district had been opened by successive Congress Governments, due to which literacy rate of this district increased vigorously.
Chief Minister said that completely computerized Bamsan-Mewa drinking water supply scheme worth Rs. 75 crore was started during his previous tenure and it was completed within ten months. The scheme has benefited 235 villages of the area.
Virbhadra Singh alleged that the BJP had always played the politics of regionalism and casteism whereas Congress Party always gave priority for development and emotional integration of the State.
Chief Minister said that the recent results of Vidhan Sabha elections in the four States would not have any impact in the State as conditions and local issues of these States were entirely different. He said that based on its performance and overall development of the State, the Congress Party would win all Lok Sabha seats in the State.
Virbhadra Singh said that he believed in democracy and he has not any personal grudges with former Chief Minister Prem Kumar Dhumal. Though he had some ideological differences with former Chief Minister Shanta Kumar but he was a gracious personality. He said that Dhumal framed false cases against him during his two tenures from which he was exonerated. He said that he did not believe in politics of vendetta.
Chief Minister said that the State Government was only investigating the irregularities committed during the tenure of previous BJP Government which was its duty. The investigation was being done on the basis of charge sheet submitted by the Committee constituted by the Congress Party, of which he was not even a member.
Virbhadra Singh said that land worth crores of rupees was allocated to Himachal Pradesh Cricket Association by registering it as Society which was later converted to a Company without any permission. He said that this matter was also being investigated. He said that he believes in promotion of games in the State.
Chief Minister said that the foundation stones of Chauri and Utpur Primary Health Centres would also be laid. He assured to consider the demands made by local MLA Rajendra Rana sympathetically.
Rajendra Rana, MLA thanked the Chief Minister to visit his assembly constituency. He said Chief Minister Virbhadra Singh was the most visionary and experienced leader of the State and State would achieve new heights of development under his leadership. He thanked the Chief Minister for honouring 40 Mahila Mandals on behalf of Sarvhit Kalyankari Sanstha.
He urged the Chief Minister for construction of Tehsil building at Tauni Devi, opening an ITI, starting bus service to Mukerian from Tauni Devi, upgrading Government High School Bhahlath and Government Middle School Majhog Sultani, constructing Irrigation and Public Health Department Rest House at Uhal, link road to Seera from Gram Panchayat Kakkar, Bhatyad to Darog khand besides link road at Chayana and Luhar Bali. He also requested for making motorable road for Thachi Rehalan.
Pradhan Gram Panchayat Tauni Devi Madan Lal welcomed the Chief Minister. Chief Parliamentary Secretary Inder Dutt Lakhanpal, MLA Sanjay Rattan, Chairman Kangra Central Cooperative Bank Jagdish Sipahiya, Vice Chairman Kuldeep Singh Pathania, Chairman, APMC Hamirpur Prem Kaushal, General Secretary State Congress Committee Sunil Sharma, Bittu, President, Ex-Servicemen Cell League Col. B.C. Lagwal, President, District Congress Committee Naresh Thakur, President District Mahila Congress Committee Rakesh Rani, former MLAs Karam Singh and Manjeet Dogra, Spokesman Congress Party Shri Deepak Sharma, and prominent persons of the area were present on the occasion.