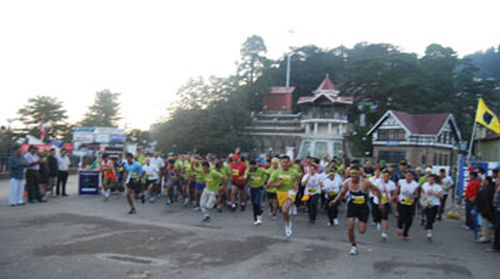 The Department of Youth Services and Sports (DYSS) and Running and Living Infotainment Organization are jointly organizing the 5th Shimla Running and Living Ultra Half Marathon on 29th September from the historic Ridge Maidan in which runners from all over the country as well as abroad are likely to participate.
A spokesperson of DYSS said here today that the marathon would be open for all interested to participate in the gruelling 24km Ultra Half Marathon and six kilometres, which would start from the Ridge and go down to Annandale and then also up to the top of Jakhu Hill. The event will start at 6 AM and 9AM respectively.
The Ultra half marathon, Half Marathon and 14km runs start from the Ridge and will descend past the Vidhan Sabha all the way down to Annadale. This tricky descent thereafter is followed by a 'killer climb' up via the British Shimla Resort and back to the Vidhan Sabha, then onwards to the Peterhof and to the Summer Hill Post Office from where the runners will take a 'U' turn to go back to the Ridge via the climb up to Peterhof.
After completing the 14 Kilometers mark, where the one race completes, the Ultra and Half Marathons will continue onwards where the runners had to traverse Jakhu Hill with a couple of steep climbs up to the Indus hospital and continue descending with some testing steep descent to IGMC, before they receive their finisher's medals and carry their well earned certificates.
V.C. Pharka, Principal Secretary Youth Services and Sports, said that "This run will take runners through nature and our historic heritage. This is now a landmark event for our State with runners travelling from all across the country and even internationally for this event."
The 31-40 year old age bracket accounts for the highest number of participants, followed by the 41-50 year old, and this seems to be the trend in runs in other parts of the country as well said Rahul S Verghese, an IIMA graduate who after 25 years in the corporate world, switched gears to start Running and Living Infotainment to get 200 million people running. We now organise 30 runs across 10 States, but the prettiest ones are in Shimla and in Kinnaur, he added.
He said that the offline registration was open to the Shimlahites which would be held on Thursday 26th September at the Motoworld, Nav Bahar and one also can contact on 09816158593 and also at its official website.