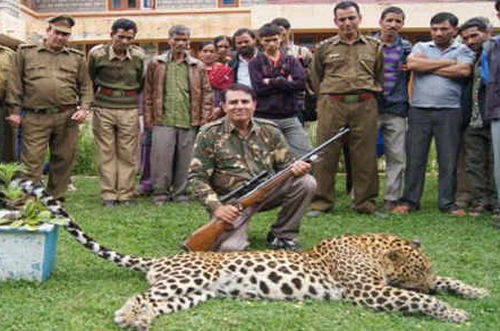 Wildlife NGO Nature Watch has expressed doubts over the killing of two leopards in the lieu of a man eater. After reported attacks from leopard, three people, including a woman, were killed and two others got injuries in five leopard attacks on humans in Seraj area. To catch the man eater leopard, forest officials had laid five cage traps at various places in the area and three teams of wildlife officials monitored the situation.
After failing in its earlier initiative to catch the leopard, the government hired the services of Shafath Ali Khan of Hyderabad and Ashish Dasgupta, a member of the Himachal Wildlife Advisory Board. Though Khan succeeds to kill two leopards, NGO Nature Watch has expressed doubts about the killing of the man-eaters.
In a statement, the Shimla-based NGO said the state wildlife wing has handled the issue casually and unprofessionally to soothe public outcry and killed wrong leopards while hunting for the man-eater. Nature Watch condemn the mishandling of the entire operation to hunt the man-eater. NGO has also question the government's role in hiring the services of hunter Shafath Ali Khan, a man with dubious credentials, and the resultant killing of unidentified leopards, including a cub, just to soothe public outcry.
National convener Rajeshwar Negi said the granting of permit by the forest authorities to kill the leopard, protected under Schedule 1 of the Indian Wildlife Protection Act, without first attempting and exhausting all attempts to capture, tranquilize and translocate it is a clear violation of Section 11 (A) of the act.
NGO said that as per the last census conducted by the wildlife wing in 2004, there were 761 leopards in the state and by killing this rare wildlife species, we are adding oil to the burning issue.