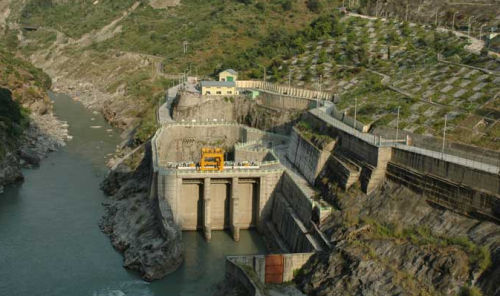 Power is one of the most important catalytic agents for development and plays a prominent role in socio-economic progress of the country. As Himachal Pradesh is blessed with numerous perennial river basins, there is an ample scope for harnessing available hydro power potential with Satluj, Beas, Ravi, Chenab and Yamuna as major rivers along with their numerous tributaries flowing through the state.
These advantages have also blessed the state with ample scope for industrial development and tourism expansion along with opportunities to accelerate harnessing of identified Hydro-Potential of 27436 Mega Watt (MW). The State Government is giving utmost priority to Run of the River Projects. Efforts are being made to harness the full identified potential.
State Government has fixed a target of completing Hydro Power Projects worth 2000 MW during 2013-14. Out of these 520 MW Parwati Hydro Power Project, 24 MW Kut, 800 MW Kol Dam, 400 MW Ramur, 65 MW Kashang-I, 10 MW Ghanavi-II, 16 MW Jogni, 8 MW Kurmi, 9 MW Parala, 6 MW Daned, 11 MW Tangun-II and 24 MW Bada Gaon Hydro Power Project would be completed by the end of this financial year while 25 MW Lamadug Hydro Power Project, 9 MW Fuzal, 9 MW Brua and 14 MW Nanti Hydro Power Project would be completed by March, 2014.
Latest assessment reveals that Satluj basin has maximum Hydro Power potential of 13331 MW instead of earlier known capacity of 10391 MW. This augurs well for the bright future of the state as on one side it would generate more employment opportunities while on other will strengthen the economy of the state.
Out of the total available hydro power capacity, 8418 MW has been harnessed so far. Hydro Power Projects of 4243 MW capacity are being executed through different agencies. 2982 MW capacity hydro power projects have been sent for clearance. Efforts are being made to explore the possibilities of harnessing 5132 MW of hydro power. A target of harnessing 1111MW hydro power by the year 2017 and 2400 MW by the year 2022 have been given to Himachal Pradesh Power Corporation (HPPC). It is executing 20 hydro power projects worth 3026 MW. Out of these five projects worth 826 MW are under construction and eight projects of 1235 MW capacity are under consideration. Pre feasibility study of seven projects of 935 MW hydro power capacity is underway.
An Authority on Hydro Projects Safety and Quality Control is being established in the Directorate of Energy for monitoring safety and quality of construction of hydro power projects for the 40 years till the projects were handed over to Himachal Pradesh Government. Directorate of Energy will be the 'State Designated Agency' and State Energy Conservation Fund would be created for the purpose.
A committee headed by Chief Secretary has been constituted in the State to supervise and monitor progress in all the hydro power projects and to sort out problems of getting various clearances without delay under single window system. This will help in timely completion of hydro power projects and would keep a tab on price escalation of the projects.
The present State Government was strengthening the infrastructure so as to attract more and more investors in the hydro power sector. A high power committee under the chairmanship of Chief Minister is being constituted which would help in clearing Micro and Mini hydro power projects being established in the state so that these may start producing power at the earliest.
Government has embarked upon a plan of strengthening the distribution network by commissioning of 20 High Voltage Lines of 66 KV capacity and above with an outlay of 207 crore so that 24 hour reliable and quality power can be ensured to all. 55 distribution schemes of 33 KV capacities and below shall be taken for execution with an estimated outlay of Rs. 156 crore.
All these efforts of the State Government would help in providing 24 hours uninterrupted power supply to consumers as well as to industrialists in the state, besides the States financial resources would be augmented in such a manner that financial dependence on Central resources would diminish.
Apart from this the State Government is providing electricity to domestic consumers on subsidized rates and a budgetary provision of Rs. 270 crore has been made for this purpose. Computerized billing facilities have been provided in 132 electricity sub divisions and consumers can pay their electricity bills in all Lok Mitra Kendras of the state. Kiosk facilities to pay electricity bills have also been provided in major towns of the state and on line bill payment facility have also been started in the state.
Due to the sincere and untiring efforts of the State Government, all 77483 villages of the state have electricity today. At present State has 20,84,152 electricity consumers out of which 17,65,293 are domestic 2,31,567 are commercial and 21,559 are non domestic and commercial consumers.