The episode in Himachal Pradesh Cricket Association (HPCA) has taken a new turn today as Himachal Pradesh CPM has released the list of 25 life members. CPM has asked the government of HP to probe whether these are for lifetime in the society or the company that was floated by them.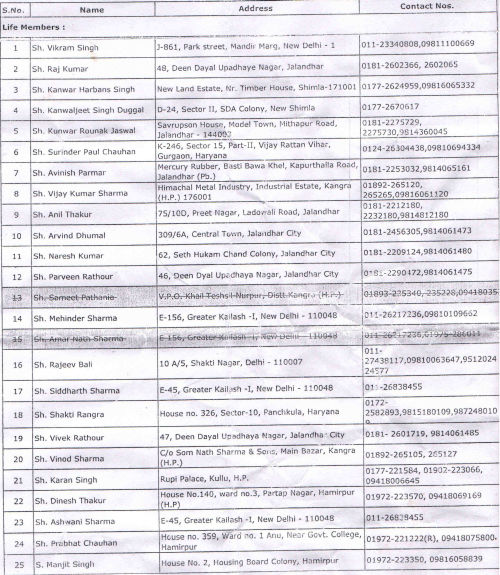 CPM leader and deputy mayor MC Shimla Tikender Singh Panwar, in his press communiqué alleged that most of the members are either member of the BJP or close relatives of their leaders. Panwar said that the list substantiates the CPM revelation of strong nexus between the real estate builders and the life time members. He claimed that some of life members are also the ones who constructed the Dharamshala stadium.
The Tikender claimed that out of 25 life time members, who also have voting rights, Amar Nath Sharma (deceased now) was the one who used to run the ANS construction company that constructed the Dharamshala stadium. His son Ashwani Sharma also figures in the members list. Likewise, of the 25 life time members 2 have died and the rest out of 23, fifteen are those who are either non Himachali or have an address outside Himachal, he added. Interestingly, the Jalandhar connection as is stated is quite prominent as 6 life time members have their address in Jalandhar. This shows that more than 65 % are non Himachal's and a good 26% are from Jalandhar.
The party has asked the government to immediately crack down on this nefarious design and exercise of the HPCA- society/ HPCA Company that have spoiled the image of the state by committing forgery and cheating. The BJP also owes an explanation that facilitated such exercise to take place in the state. The CPM would support the state government in its endeavour if it goes ahead with the inquiry and bring the guilty to book. The party has simultaneously warned the government to not to join hands with BJP and hush up the inquiry.