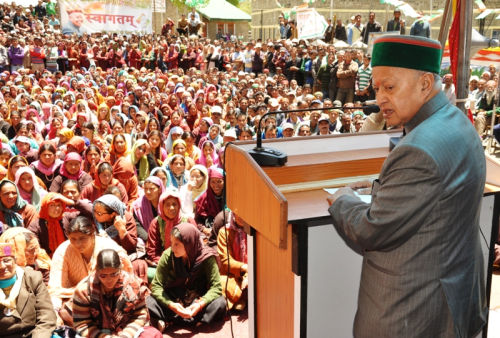 Chief Minister Virbhadra Singh directed the officers working in tribal areas to complete the on-going works timely keeping in view the limited working season in these areas so that the development works may not hamper due to adverse weather condition.
Chief Minister said it in a public meeting at Keylong, the district headquarters of tribal Lahaul-Spiti district.
Virbhadra Singh said that the State Government would not tolerate commercialization of education and would only approve those private educational institutions which would provide qualitative education and having adequate infrastructural facilities.
Thanking the people for giving huge mandate in favour of Congress Party in the recent assembly elections, Chief Minister said that it had possible due to love and co-operation of the people of the State. He said that State Government was committed for equal and balanced development of all the regions of the State.
Virbhadra Singh said that the State Government had enhanced the winter allowance of employees working in tribal areas from Rs. 200 to Rs. 300 and added that the fixed medical allowance of employees and pensioners had been increased to Rs. 350 from Rs. 350 to benefit the employees who were the backbone of the Government.
Chief Minister said that State Government had adopted Election Manifesto of Congress Party as Policy Document and was working on the lines for benefiting every section of the society and added that during five months of its regime, the Government was seriously alive to the problems and concerns of the people of the State. Numerous welfare policies had been adopted to benefit poorest of the poor.
Chief Minister said that there was a vast hydel potential in the State which was to be utilized to its full potential. Moreover, it would be ensured that 70 percent employment be given to the youth of the State in these projects.
He said that Government was committed to provide basic facilities like drinking water, irrigation, road and health facilities to the people. He announced upgradation of High School, Gaushal to Senior Secondary School.
Chief Minister was given rousing reception at various places in the valley. MLA Ravi Thakur welcomed the Chief Minister and detailed out developmental activities being carried out in the area. He thanked the Chief Minister for providing sufficient funds for the development of the area.
Member, Tribal Advisory Committee Nawang Bodh also welcomed the Chief Minister. Member, Zila Parishad and President, Mahila Congress Shashi Kiran, District Congress President Deepak Thakur, Vice President, District Congress, Rajinder Karta, Spokesperson, DCC Anil Sehgal, Advisor to Chief Minister T.G. Negi, Principal Secretary to Chief Minister V.C. Pharka, Deputy Commissioner, Lahaul-Spiti Bir Singh Thakur, Superintendent of Police, Sunil Kumar and other senior officers were also present on the occasion.