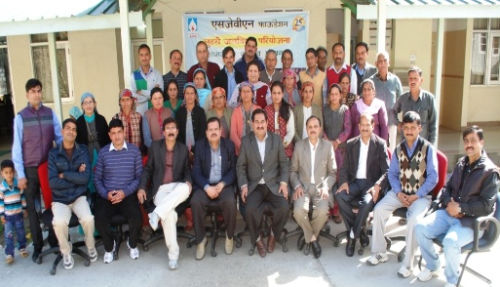 Satluj Jal Vidyut Nigam (SJVN) Foundation-Luhri Hydro-Electric Project distributed an advance payment of Rs. 15,92,765 for infrastructural development works to the Pradhans of project affected Gram Panchayats at a function held at Bithal. As per the MOU signed between SJVN and Gram Pradhans, SJVN had agreed to provide funds for the infrastructural works such as development of school grounds, construction of toilets in schools, community halls, development of village paths etc. Of the total 28 project affected panchayats of the Project in District Shimla, Mandi & Kullu, 21 panchayats have already signed MOU.
On this occasion S.K. Sharma, Head of Project, told that it was for the first time in the Company that maximum public participation was being ensured by signing MOUs with panchayats for carrying out the community infrastructural works. After signing MOUs, Village Development Advisory Committees have been formed for maximizing the public participation and also ensuring transparency in the infrastructure works to be carried out under CSR. These committees are headed by D.P. Kaushal, AGM (CSR/R&R) and comprise of four members from the Project and three members from respective panchayats.
D.P. Kaushal, AGM (CSR/R&R) informed that various schemes were being run in project affected panchayats such as technical education for youths through ITIs and CIDC, Faridabad, financial assistance for women and child care for BPL women, technical knowhow to farmers in Horticulture, agriculture and veterinary, support to culture, sports and melas, free consultancy and medicine through mobile health van, provision of benches and wheel chairs in public places and hospitals. Kaushal requested the panchayats' representatives to propagate these schemes for the benefit public.