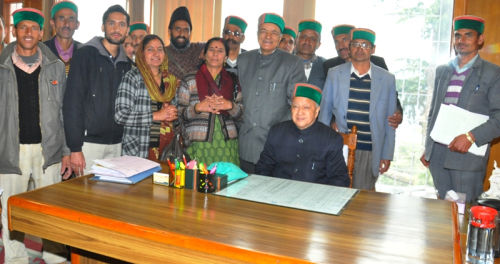 Shimla: A deputation of Pangi area of Chamba district led by Forest Minister Thakur Singh Bharmouri called on Chief Minister Virbhadra Singh here today. The delegation demanded Chief Minister to construct tunnels below Cheni Pass and Holi-Utrala on top priority. They also demanded for filling up of vacant posts of employees in various categories in the valley.
The Chief Minister assured the delegation that their demands would be considered sympathetically as the State Government was committed for the welfare of tribal people. He said that various steps were being taken for equal and balanced growth of tribal areas and welfare of the people. He said that a provision of Rs. 369 crore had been made under Tribal Area Sub Plan during the coming financial year, which was nearly 11 percent higher than the outlay of the previous year. Besides, budget allocation of Rs. 764 crore for Tribal areas including the Non-Plan during the year 2013-14 had been made.
Thakur Singh Bharmouri apprised the Chief Minister that by constructing the tunnel, people of the tribal areas would be benefited as the distance between Pangi to State Headquarter would be reduced significantly.
Amit Bharmouri & Raj Kumar, Member Zila Parishad, Satish Kumar Sharma, General Secretary, District Youth Congress, Brahmanand, President Block Congress Bharmour, Subhash Chand & Devki Gram Panchayat Pradhans and Sur Dev, Up-Pradhan Gram Panchayat Mindal were also present on the occasion.