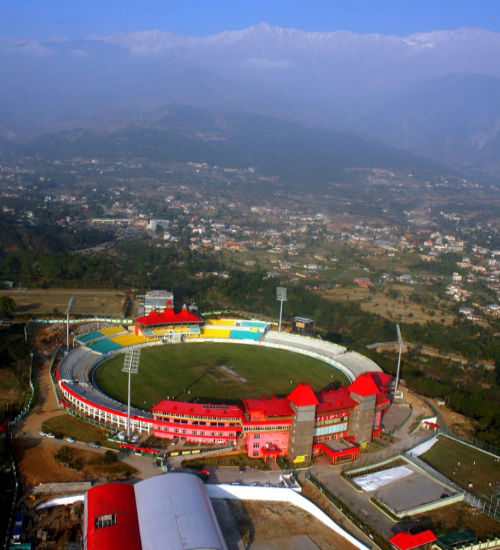 The cold and tranquil surroundings of Dharamsala are set to be abuzz with the clamour of international cricket. Though the series has been decided in Mohali, but cricket fan from all over the Himachal and neighboring states are thronging to catch the scintillating cricketing movements amidst the snow clad mighty Dhauladhar ranges. Full house is expecting to witness the first ODI at Dharamsala Cricket Ground as hotels and guest houses at Dharamsala and its nearby places are already full.
Tomorrow will be a big and challenging day for the Himachal Pradesh Cricket Association, but Anurag Thakur led team is all set to meet this challenge and ready to make this picturesque cricket venue as a desired place of cricketers and spectators for the future cricket meet.
Dharamsala Cricket Ground is listed among the most beautiful cricket ground in world and has no competitors in India, but to come this far, Dharamsala Ground took ten long years to make this happen. After failing to find enough space in Shimla town, HPCA opted for Dharamsala, but rocky slope initially frighten the Anurag Thakur team, however with the persistent effort and zeal to put Himachal Pradesh on the Cricket map, made this happen.
Dharamsala hosted its first Ranji Trophy match on 17 December 2003, that was played between host Himachal Pradesh and Goa and till now its has successfully hosted 29 first-class matches, including 24 Ranji fixtures. Teams like Pakistan, Sialkot XI, South Africa 'A' and Australia under-19 have played here.
In 2010, Dharamsala Ground made its name in Indian Premier League by hosting a match between Kings XI Punjab and Deccan Chargers. Since then, six more matches have been held.
Visitors to this place didn't forget to praise the beauty of this place. Australian former wicketkeeper batsman Adam Gilchrist, who also known for his hard hitting batting, praised this venue as well.
In 2005 former England opener and Pakistan coach, late Bob Woolmer hailed the picturesque HPCA Stadium and complemented it by saying that
It's very nice to play cricket here and I am sure, very soon this will be a great ground in world cricket. Once completed, it will be one of the greatest grounds for Test cricket
Once known as "Lovers' Point" before the construction of stadium, Dharamsala Cricket Ground will surely win the heart of thousands of spectators and players.