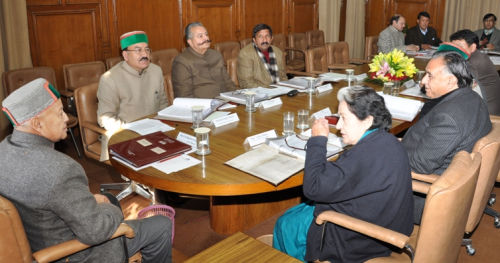 The Cabinet in its meeting held under the chairmanship of Chief Minister Virbhadra Singh approved and finalised the Governor's address to be delivered in the first Vidhan Sabha Session of the present Government to be held at Dharamshala this month.
With respect to regularisation of PTA teachers in education department it was decided that the status-quo as on 30/10/2007 shall be maintained. Further, a committee was set up under the Chairmanship of Chief Secretary to examine all relevant aspects including legal issues on this matter and submit recommendation within three months.
The Cabinet gave its nod to create a post of Naib-Tehsildar (Election) in the office of Chief Electoral Officer, Himachal Pradesh for successful implementation of Systematic Voters Education and Electoral Participation (SVEEP) project started by Election Commission of India with a view to educate, provide training to and ensure maximum participation of the voters in electoral process.
The Cabinet decided to amend the Recruitment and Promotion Rules of Director Prosecution in Home (Prosecution) department. Approval was granted for placing documents pertaining to Himachal Pradesh Fiscal Responsibility and Budget Management Act, 2005 before the Vidhan Sabha along-with Statements and Review of trends of revenue receipts and expenditure, remedial measures proposed to be undertaken by the Government, Sound Fiscal Policy strategy with a thrust on economic development so as to achieve increase in State Gross Domestic Product (GDP) etc.
The Cabinet also gave its nod to create a post of Officer on Special Duty (OSD) on contractual basis and co-terminus with Chief Minister, in the office of Chief Minister. The cabinet decided to appoint Amit Pal Singh on this post with effect from 25th December, 2012.
Approval was granted to create one post of Advisor to the Chief Minister who will coordinate and Monitor all the Centrally Sponsored Schemes. Since there are large number of Centrally Sponsored Schemes covering sectors like Agriculture, Horticulture, Health, Irrigation and Public Health, Rural and Urban Development, Social Security, Tourism, Education, Power etc, the Cabinet decided to give Ex-post facto sanction for appointing T.G. Negi IAS (Retd.) on this post with effect from 25th December, 2012 on co-terminus basis.
The Cabinet decided to constitute a Sub-Committee of three ministers Kaul Singh Thakur, G.S. Bali and Mukesh Agnihotri for setting up certain guiding principles on policy for regulating transfers of employees of State Government.
The Cabinet also gave its approval to hire Mi-172 Helicopter of M/s Pawan Hans Helicopters Ltd for five years w.e.f. 1st January 2013 on Wet Lease by the State Government.
It was decided to create the post of Engineer-in-Chief PWD(Designs and Quality Control) from 1st January to 30th June 2013 and cease the post of Engineer-in-Chief (Projects) from 1st January onwards.