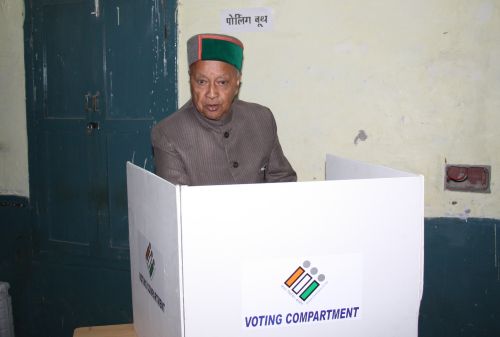 Nov 4 was a big day for the democracy and electorates of Himachal Pradesh, who proved it right as they came out in huge numbers to caste their votes. 2012 Himachal Assembly Election witnessed highest polling in the state history as Election Commission of India recorded 75% turnout. Nalagarh Assembly Constituency of Solan district has broken all records with about 95% voter turnout.
But what is perplexing is voters' percentage in Shimla (Rural and Urban) constituencies, where percentages of votes were below the overall percentage. Against 75% turnout, these two constituencies Shimla (Urban) Assembly Constituency recorded 58.77 % turnout, where its nearby Shimla (Rural) Assembly Constituency recorded 59.23 % voter turnout.
Congress stalwart and likely CM candidate, if Congress is voted into power, Virbhadra Singh is candidate from Shimla (Rural) Assembly Constituency and his charisma has failed to inspire the voters of the segment. Shimla is a capital of the state. Most of the political activities transpire here, but electorates of the city have not shown interest to use their right and only 58.77 % came out to vote, lowest in the state. People of Shimla are most vocal for their rights and raising the problems, like roads, electricity, water, health, but when a chance to choose a leader, who can best fulfil their expectation and promises, they decided to remain inside the house.
Only four constituencies, including far-flung Chopal Assembly Constituency, where in some poling booths people walked over 10km to cast their votes, Theog Assembly Constituency, Rampur Assembly Constituency and Jubbal-Kotkhai Assembly Constituency have recorded above overall vote percentage, however in Kasumpti Assembly Constituency on 60.11 percent voters turned around. Rohru Assembly Constituency 68.80 percentages polled, which is below average. Jubbal Kotkhai Assembly Constituency topped in Shimla district with 78.87 percentages.

Shimla districts overall vote percentage was only 68.85 percentage, about 6 percentage below the overall voting in the state, it is only above Lahaul & Spiti, which has recorded about 68 percent voting. Considering the rocky and difficult terrain of Lahaul & Spiti, where some of polling booths were about 10-15 km far from voter inhabitation, this turnout was good enough.
But what we have seen in Shimla shows that people of the city are only vocal for their problem and not keen on improving them by choosing right representative from the region. Literacy level is above 95 percent in Shimla and even after that electorates of Shimla city and its surrounding, Rural and Kasumpti segment refrained from using their right.
Shimla District comes 12th in overall voting percentage in state. Lowest in State.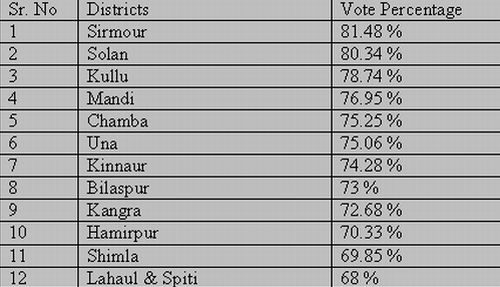 Update:
Election department corrected the vote percentage of Lahaul & Spiti Assembly Constituency to 74.97 percent.