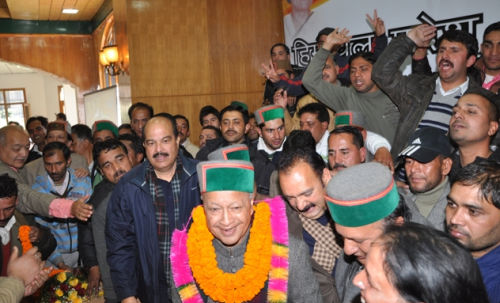 Finally, the long dilemma for the candidates as well as for the common masses in the Himachal Polls is over. When counting began this morning after one and half month of polling, the future of state for the next five years came to the fore and it rests in the hands of Congress. Obviously, there were cheers for the winning candidates and sorrows for the losers but this is what the elections are all about. However, what remains to be seen is whether or not the people will have cheers in the coming five years. Nevertheless, we have compiled a list winning candidates that you surely would like to check.
In Shimla district Indian National Congress has put an impressive show and won six out of eight seats.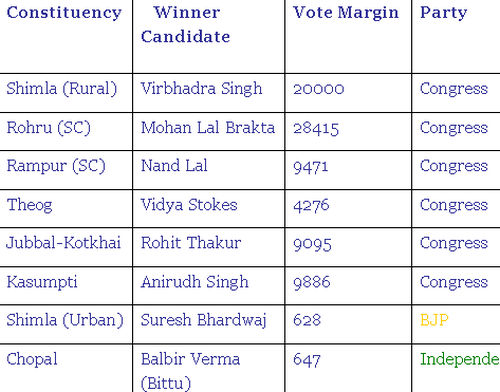 In Sirmour district BJP emerged as a leading party as it won three out of five seats, Congress had to be satisfied with lone seat, whereas Congress rebel wrest Paonta Sahib Assembly seat.

In Solan District, Congress could manage to win two seats, whereas BJP won three seats. In 2007 BJP had clean swept the district.

In Bilaspur District, Congress and BJP managed to get two seats each.

In Una District, Congress manage to put impressive show as it won three seats, whereas BJP had to be satisfied with two seats.

In Hamirpur District, Congress experienced major disappointment as its senior leader Sukhvinder Singh Sukhu faced defeat from newcomer Vijay Agnihotri by 6750 votes. BJP managed to win three seats in district, whereas Congress won one and BJP rebel won Sujanpur seat.

In Mandi District, Congress and BJP had managed to win equal seats. Most of heavyweights from both party managed to secure their seats.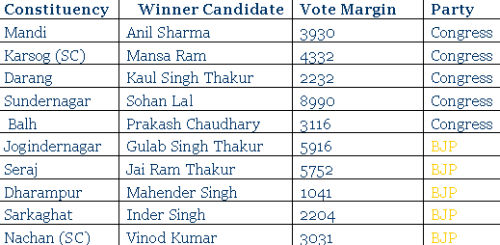 In Kullu District, Congress came as a surprise to many, as it managed to win couple of seats. HLP convener Maheshwar Singh manages to secure his seat from Kullu assembly seat.

Political important Kangra district again prove decisive for the Govt formation and Congress lead in the district pave the way for the party in Himachal Pradesh. Congress managed to win ten seats in this district, whereas BJP had to be satisfied with two seats and two seats won by BJP rebels.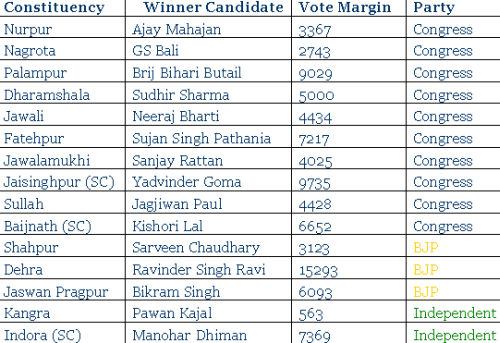 Chamba tilted towards BJP, but veteran Thakur Singh Bharmouri and CM aspirant from Congress party Asha Kumari managed to win their seats.

Congress wins both tribal seats in Kinnaur and Lahaul-Spiti districts.