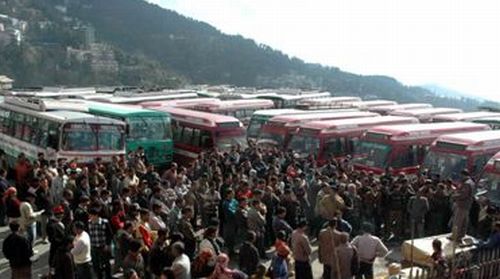 The joint coordination committee (JCC) of Himachal Road Transport Corporation (HRTC) employees has decided to revive their agitation against the state government. JCC alleged that the Govt has failed to implement the agreement reached at between them and therefore it has given a call to eight-hour duty by resorting to the work-to-rule principle throughout the state from November 20 to protest against the callous attitude of the HRTC management to the implementation of demands.
After a prolonged agitation of HRTC employees, the state government and the JCC signed an agreement on June 18, wherein the Transport Minister assured the employees to meet their demands. However, JCC leaders now accusing the HRTC management of not implementing the demands accepted by the state government in the written agreement. JCC president Shankar Singh Thakur said,
The state government agreed to grant dearness allowance to all contractual employees, give grade pay and 4-9-14 time scale, regularise the service of contractual employees after six years, pay for overtime, recruit more staff to ease work and allow weekly offs and holidays
He claimed that the HRTC management has not met any of these demands. No contractual employee has been regularised, night allowance and overtime payment have not been paid as per the agreement and weekly offs are not being allowed due to shortage of staff.
HRTC employees are also blaming the management for cutting losses at the cost of employees. It is paying a night allowance of Rs 91 compared to the agreed upon amount of Rs 130. It is paying for an overtime of only eight hours for buses staying for night halt. Only those running the buses during night hours are being given payment for overtime.